In January 1990 I topped the scales at 475lbs.In May of 1993, a whopping 288lbs later I fit into a size 38 pants at 187lbs. This photo was taken in 1991 after I had lost 100lbs and felt comfortable enough to get out and get some sun! That's me on the left with the sunglasses on.
Sometimes I think that I should have put on another 25 pounds just so I could say I was 500 pounds.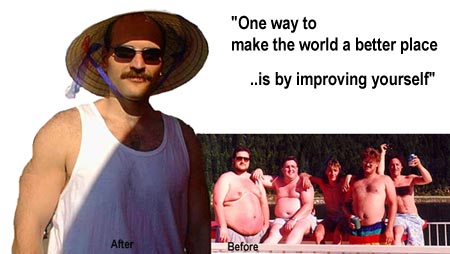 Whole Food Nutritional Program
I was able to get rid of almost 300 pounds through various means such as food combining, increase of fruits and vegetables, decrease of dead foods, drinking pure clean distilled water and exercise (more about this in The Whole Story). But the most important thing that I found to improve my health and well being was the introduction of a whole food nutritional program. After losing almost 200 lbs, I was still stressed, still used drugs and drank excessively. I was weak, gaunt, and still had a lot of health issues.
It was the addition of Sunrider Whole Foods nutritional program where I began to turn my life around! I finally got the results that I thought I should have gotten from all the natural foods I was eating and natural food programs I was following.
Decrease Stress, Addiction support, build muscle
I found that once I got started on this new nutritional program, a whole host of things changed in my body. My stress levels went down, I was able finally quit using drugs, quit drinking and my ratio of lean muscle tissue to body weight increased!
Chinese Philosophy
The whole food herbs that I eat are based on a special Chinese Philosophy. The philosophy is a belief that the body will regenerate itself if given the proper combination of whole foods and that you take responsibility for your own health.
I learned a lot from what I had read and what I had done on this new road to health, but this new program was much easier. Once I started on this new program, my bodies innate wisdom took over and I started to heal in every way. For more information about this program and how you can get started, please contact me.
Three Tier Approach to Health
There are three critical components to health. Each one is important, but together they provide the dynamics that practically assure good health and life long success:
Diet
Aerobic Exercise
Resistence Exercise / Weight Training / Anerobic exercise
Personal Consultation and Coaching Services
With a personal herbal nutritional program designed specifically for you... your body, for you... right now, and ongoing consultation services, you have three options:
Personal phone and email consultation and coaching Gold Program
Personal Phone consultation and coaching Bronze Program
simply take out a membership and receive consultation for free
"I began on Rob's program and with his coaching and the personal herbal food program have lost 62 pounds in 10 months"
JoAnne W, Texas
"I've lost over 40 pounds now, going from 380 pounds down to 340 in four months. I have the energy to go out and pick blueberries where I would have just sat on the couch before. Friends have noticed the weight loss and are complimenting me on it! I love it. I feel good, I don't drink pop or coffee anymore and I can hardly wait to see where this program takes me."
Rosemary A, Alberta, Canada
Phone consultation and coaching begins at $50USD per half hour and includes a free 1/2 hour session along with your first call.
For more information, contact me
My Review of Burn the Fat, Feed the Muscle
I have committed to attaining 6% body fat by July 1, 2005. In making the committment, I was lead to some new tools for my toolbox by Author Tom Venuto in his book, Burn the Fat, Feed the Muscle. Read my review of Burn the Fat, Feed the Muscle here.
Like I've always said and taught, "the more you know about how the body works, the better informed decisions you can make on your road to health or achieveing your fitness goals."
Recently added articles
Free Creatine Report
The "Creatine Report" is a free and in depth report on creatine's usage in sports, health and anti-aging.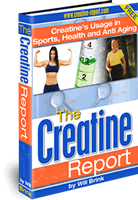 In this report you will learn what creatine is and how it works, and what it can do for you.
This excellent free report exposes the facts and fiction of creatine, and details it's effects on the brain, heart, the body's production of growth hormone, anti-aging effects, fatigue, muscle atrophy, Parkinson's disease, and much more!
You'll also learn how to use creatine properly, as well as topics such as purity, safety, and loading are fully explained...
...And of course, as with all Will Brink's writing, it's based on the actual studies with creatine and backed up with scientific references, not conjecture and pseudo science many self proclaimed "experts" rely on.
Click here for information on the instantly downloadable Creatine Report