McDonalds chicken nuggets are a favorite with children in many families. Parents buy the 'chicken nuggets' believing they are indeed made from just chicken. McDonalds even provides flyers titled "A Full Serving of Nutrition Facts: Choose the Best Meal for You." However as you can see from the ingredient list below, there is a lot more than just chicken.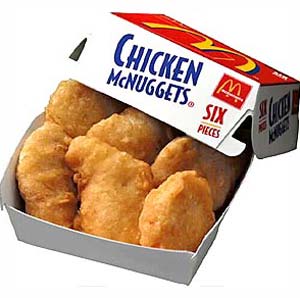 Chicken, water, salt, modified cornstarch, sodium phosphates, chicken broth powder (chicken broth, salt, and natural flavoring (chicken source)), seasoning (vegetable oil, extracts of rosemary, mono, di- and triglycerides, lecithin). Battered and breaded with water, enriched bleached wheat flour (niacin, iron, thiamine mononitrate, riboflavin, folic acid), yellow corn flour, bleached wheat flour, modified corn starch, salt, leavening (baking soda, sodium acid pyrophosphate, sodium aluminum phosphate, monocalcium phosphate, calcium lactate), spices, wheat starch, dried whey, corn starch. Batter set in vegetable shortening. Cooked in partially hydrogenated vegetable oils, (may contain partially hydrogenated soybean oil and/or partially hydrogenated corn oil and/or partially hydrogenated canola oil and/or cottonseed oil and/or sunflower oil and/or corn oil). TBHQ and citric acid added to help preserve freshness. Dimethylpolysiloxane added as an anti-foaming agent.
There are 38 ingredients in a McNugget; many of them made from corn. Further down the list there are the mono, diandtriglycerides, and the emulsifiers that keep the fats and the water from separating. More corn flour is used to make the batter, and the hydrogenated oil in which the nuggets are fried can come from soybeans, canola or cottonseed, depending on the market price.
It gets worse: a number of the ingredients come from petroleum products, to keep the items from spoiling or 'looking strange' after months in the freezer or on the road. If you are truly worried, look up these ingredients: sodium aluminum phosphate; mono-calcium phosphate, sodium acid pyrophosphate, and calcium lactate. These are used to keep the animal and vegetable fats from turning rancid. Then there are "anti foaming" agents like dimethylpolysiloxene. According to the Handbook of Food Additives, this material is a suspected carcinogen and an established mutagen, tumorigenic, and reproductive effector. It is also flammable.
The most alarming ingredient in Chicken McNuggets is "tertiary butyl hydroquinone," or TBHQ, derived from petroleum. This is sprayed directly on the nugget or the inside of the box it comes in to "help preserve freshness." Again, according to A Consumer's Dictionary of Food Additives, TBHQ is a form of butane (lighter fluid) the FDA allows processors to use sparingly in our food. It can comprise no more than 0.02 percent of the oil in a nugget. Which is probably just as well, considering that ingesting a single gram of TBHQ can cause "nausea, vomiting, ringing in the ears, delirium, a sense of suffocation, and collapse." Ingesting five grams can be fatal.
Do you really want to give your kids Chicken McNuggets?
Source: the Gerson Healing Newsletter – www.gerson.org
My Recent Post That May Be Of Interest
Everyone seems to want to know how many calories in Almonds and all sorts of other almond nutritional information questions. Truth is that almonds are one of the best sources of protein, vitamins, minerals and fiber and you really do get a good bang for your buck. Have you been buying almond milk? Learn how to make your own almond milk with this convenient almond milk recipe and know exactly what you're getting in your final product. Learn everything there is to know about the health benefits of almonds. There's plenty. Continue reading