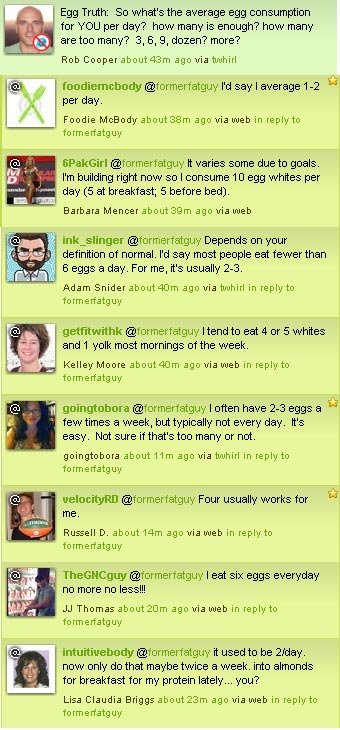 In a recent discussion on twitter about what's considered a "normal consumption" of eggs per day, I got quite a few responses. From 2-3 eggs a day to 6 eggs a day including variations on whole eggs vs egg whites being best.
I shared my 6 egg omelet recipe through a tweet and then thought I should share the images I took a few months back while I made it one morning. These were originally uploaded to facebook and taken with my blackberry, so excuse the quality. I'll replace them with higher quality images later.
How Many Eggs Is Normal?
So what's considered the normal amount of eggs to consume in a day? Each of us should have our own definition of normal as @ink_slinger asked. And that's just it isn't it. We now know that eggs are good for us, that the "cholesterol confusion" around them has been solved and that eggs do not raise cholesterol and are not a cause for concern at all.
Eggs are finally getting the respect they deserve, yet some still fear consuming them.
Are they only for weight lifters, sports enthusiasts, people who exercise hard?
Or can egg consumption actually help people lose weight, make them feel better and improve their health?
again, depending on how you were brought up, how your eggs are produced (or where), egg consumption can have different impacts.
I remember reading a story about an interviewer asking a man who had lived to be 100 years old about his habit of consuming up to 40 eggs a day. He responded "I never thought twice about it".
It's just an egg. It's the most bio adaptable source of protein for the human body and it's what all other proteins are compared to when describing their quality.
Regardless of what your take is on this whole question, here is my 6 egg omelet recipe.
Fresh Greens Fried In Coconut Oil
I begin with slicing and dicing onion, red, yellow or orange peppers, broccoli (about a cup), 2 kale leaves de-stemmed and cut into small pieces and then fry them a little in coconut oil. Near the end, I might put a little water in the middle and then cover it with a lid to steam it a bit at the end. Fresh mushrooms would be good to add here too, I just use mushrooms as often as I should.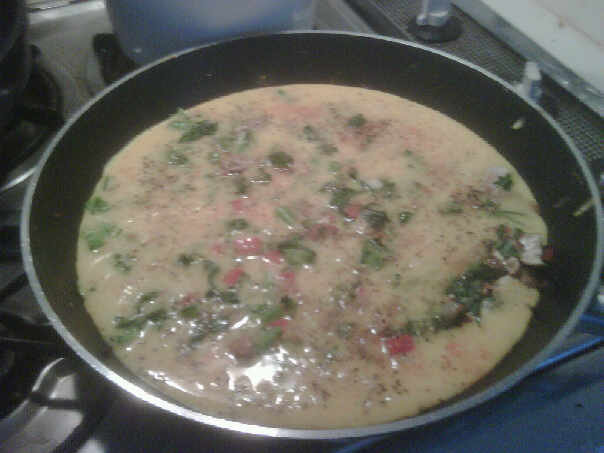 Add 6 Eggs To Greens
I put in another little drizzle of coconut oil and then either beat 6 whole eggs ahead of time and pour in, or just crack them individually over the mixture. I make a "mans omelet", with none of that fancy steaming or whatever. I just scramble them up and let them cook, turning them over once, little pieces at a time. I don't bother with a one off "flip" of the omelet. Too much trouble. At this point, I grind some black pepper over it, along with sea salt and sprinkle on a good amount of cayenne pepper. Pepper and Cayenne help to perk up the metabolism as well. Nice little weight loss tip.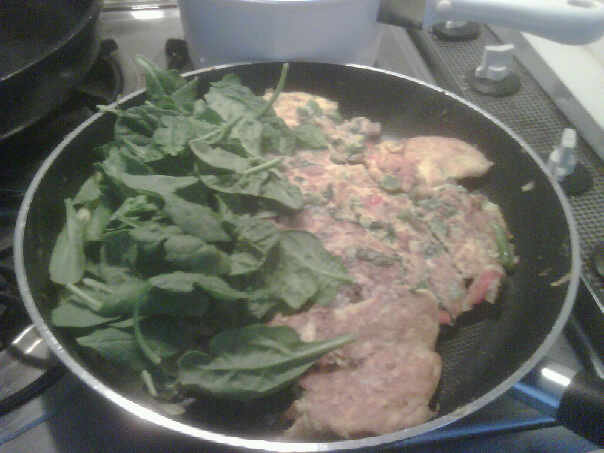 Topped With Raw Spinach
I add a big heaping bunch of raw spinach. Can you have too much spinach on your omelet? I think not. Pile it high on half of the cooked eggs and get ready to fold the other half over.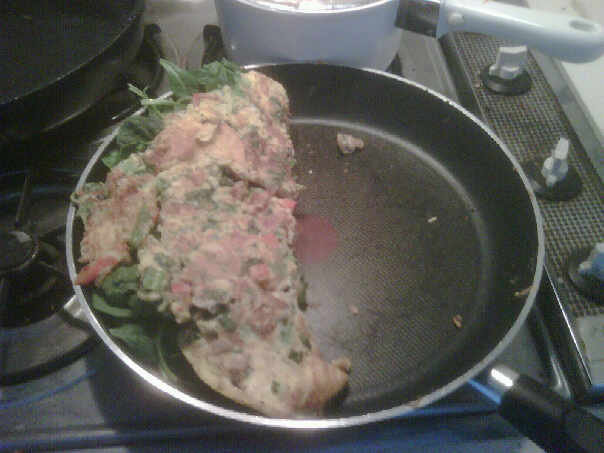 Finished Omelet
Here it is done, with the other half of the omelet flipped up over the spinach.
I would then add various versions of hot sauces to this and might even add another side of steamed asparagus or more broccoli. The whole thing is then washed down with chia gel and I'm set for my morning.
So what's your take on this question? How many eggs should be consumed in a day? I'd love to hear your responses.
My Recent Post That May Be Of Interest
Everyone seems to want to know how many calories in Almonds and all sorts of other almond nutritional information questions. Truth is that almonds are one of the best sources of protein, vitamins, minerals and fiber and you really do get a good bang for your buck. Have you been buying almond milk? Learn how to make your own almond milk with this convenient almond milk recipe and know exactly what you're getting in your final product. Learn everything there is to know about the health benefits of almonds. There's plenty. Continue reading