Four of my favorite things are carrots, kale, nut milk and chia seed, so I found a way to incorporate them all into a little green smoothie drink I make for the middle of the afternoon as a little pick me up. I also use this after a workout as my post workout recovery drink to build muscle and reduce catabolism. Most people might consider this a green smoothie, but I prefer to call it a blended salad because my definition of a green smoothie is a little different.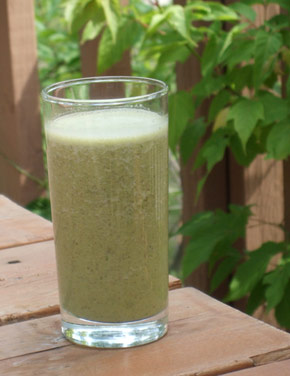 Rob's Carrot Kale Cocktail with Chia seed
I have a drink I liked to call Rob's Carrot Kale Cocktail which was basically just a special concoction I made up in a blender but it's now morphed into this wonderful drink that also contains nut milk and chia seed. It's still Rob's Carrot Kale C,ocktail, but it's version 2.
Ingredients:
1/4 cup of sunflower seeds – pre soaked
10 to 15 almonds – pre soaked
1 carrot
1 kale leaf
a little parsley
1 or 2 Tbsp Chia seeds (see note)
1 tsp Dark maple syrup or a little stevia
Preparation: Soak 1/4 cup of sunflower seeds and 10 to 15 almonds in water overnight to activate the seeds.
Make the nut milk:
Pour off the soak water and put sunflower seeds and almonds into blender cup.
Add a cup of distilled water.
Blend.
I prefer the Magic Bullet because of it's unique blending format which forces the liquid down onto the blades. Blend for about a minute or two. Add another cup of water to thin it out a little more. I find that blending in less water allows all the seeds to hit the blades more effectively.
Add a Tablespoon or two of chia seeds, stir into nut milk and allow 5 minutes for the nut milk gel (chia gel) to set up.
Make the Carrot Kale Cocktail
While the nut milk gel is setting up, cut the carrot into small bits so it doesn't break the blender. De-stem the Kale and cut leaves into small bits (about an inch or so, just so it blends a bit better)
Put the carrot parts into the nut milk. Blend again until carrots are fully mixed in.
Add Kale and parsley, Blend again.
Taste.
If required, go ahead and add a tsp of Dark maple syrup for flavor. Maple syrup is optional. I suggest dark maple syrup because it has more minerals in it. Stevia may also be used. Taste it first though, you might find you like it just the way it is.
Note: Chia seeds will really gel this up if you use too much. Play with the amount of seeds to the amount of water. You should be able to sip it, not have to spoon it out.
Fiber Content:
The nut milk itself will provide a few grams of fiber. So will the chia seeds, so I'd approximate the fiber in this to be at least 5 grams (or more).
Blended salads are a great way to add nutrient dense foods to your day, as a mid afternoon snack, a post workout supplement or added to a meal instead of other beverages. Kale is a nutrient powerhouse – one of the preferred dark leafy green vegetables. Carrots add important vitamin A while the chia seeds add so much to the mix and slow down the absorption of it all keeping you full. Chia also provides important Omega 3 fats. The nuts and seeds of course provide protein, fats, fiber and many minerals.
My Recent Post That May Be Of Interest
There are a few times in my life that I consider "… next to God experiences" and when I found out about oats and began eating them, this was one of those times. I had been vegetarian for a few months at least, maybe a year, eating nothing but raw veggies, salads, fruit and fruit juices. I took a course on "whole foods" and learned about Steel Cut Oats. I began eating them and everything just "straightened out" in my life. Blood sugar was more balanced, I became even more regular and I began to put on some muscle. I began with… Continue reading