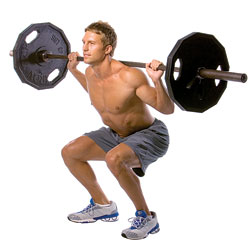 When you're lying on your back on the bench and your training partner is snorting and hollering over you, spittle dropping down on your forehead right where that vein is about to burst…
…you always seem to have MORE POWER than you think, don't you?
But what if you don't HAVE an adrenaline-jacked training buddy?
Never fear! Here's…
How To Increase Your Reps On Any Exercise
Stupidly simple yet amazingly POWERFUL, this "quick tip" works every time for generating a bit more power…
…and it's all PSYCHOLOGICAL!
All you have to do is, instead of counting your reps 1-2-3-etc.
Count BACKWARDS!
(Told you it was stupidly simple)
Here's Why It Works
Just as having a spotter who's jacked on adrenaline and caffeine forces you to dig down deep and push your body beyond any MENTAL blocks you have…
…counting BACKWARDS also "tricks" your brain to get more power out of your muscles.
Knowing that you're getting closer and closer to the "end" of your set, your brain will almost MAGICALLY flip the switch on the afterburners and you'll be able to get more reps than if you'd been counting the "traditional" way.
Your "Champion For The Average Joe & Jane"
The "Muscle Nerd"
Jeff Anderson
Author of Combat the Fat Workout and Hardgainer Project X
My Recent Post That May Be Of Interest
Everyone seems to want to know how many calories in Almonds and all sorts of other almond nutritional information questions. Truth is that almonds are one of the best sources of protein, vitamins, minerals and fiber and you really do get a good bang for your buck. Have you been buying almond milk? Learn how to make your own almond milk with this convenient almond milk recipe and know exactly what you're getting in your final product. Learn everything there is to know about the health benefits of almonds. There's plenty. Continue reading