One of the most common requests I get are for current pictures of me. Everyone wants to see my weight loss photos (before and after photos) and this is a place to provide them for you. They're in no particular order, other than that for which I want to tell a story, or like the layout. The dates and locations are noted below each photograph. I hope you enjoy.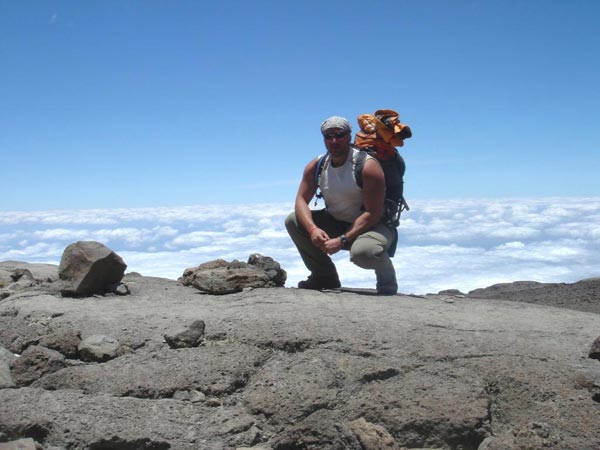 Climbing Kilimanjaro in 2006
In October of 2006 a group of 10 Canadians climbed Kilimanjaro to raise money for three African charities. We raised $100,000 and then went to Tanzania to climb Kili. This picture is taken on day four if I remember correctly above the clouds looking back over the Serengeti below. After the trek, I stayed in Africa to do a 2 week safari which started in Nairobi Kenya and traveled back through Tanzania and then looped back to Nairobi. Following that adventure, I spent 4 days in Zanzibar lounging on the beach and snorkeling in the Indian Ocean.
Kilimanjaro Summit
I was the first of two of our group the summit. It was incredibly cold that day and our guide told us that in 20 years of leading people up the mountain, our ascent was the 3rd time it was as windy as it was. I had 6 layers on my top and 4 on my legs including two jacket hoods and a balaclava for my head. We got up at 10 PM on summit day and climbed during the night, watching Orion rise over the horizon and got to the top about 7 hours later. If you're curious, it took 6 days to go up, and one day to come down. Kilimanjaro summit height is 5895 Metres.
Mt Everest Base Camp and FMU
Me at Mt Everest Base camp in October 2008. As a special treat to my buddy Israel at Fat Man Unleashed, I took the shirt he sent me to Nepal and packed it all the way up to base camp. While at 5400M and dealing with the cold, I did a clothing change and put his FMU shirt on over top all my layers for this shot. That is not Mt Everest behind me, but that IS the khumbu ice fall at base camp. It's the first thing those who attempt the summit have to navigate on their way up the mountain. To hear it cracking every few minutes was amazing. I had to flip up my toque over my ears to make sure I wasn't hallucinating such an amazing sound. This last day of hiking to base camp was a 9 hour day and there were still 4 hours ahead of me before I reached food water and shelter. Oh, and again, for the curious people out there, I took my Polar heart rate monitor with me and it said that my average calories burned on hiking days was 9000+, and that was just during actual movement, not including any afterburn.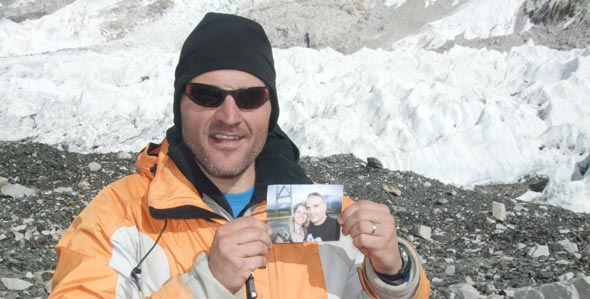 Mt Everest Base Camp with Dar
My fiance doesn't hike (not even close), so I did this trek without her. I did however take this picture of her and I along and snapped this shot at base camp. I took the time to do a personal little video to her and she's the only one who will ever see it. We connected in Bangkok after my hike and spent another 3 weeks in Asia exploring Thailand, Singapore and Malaysia.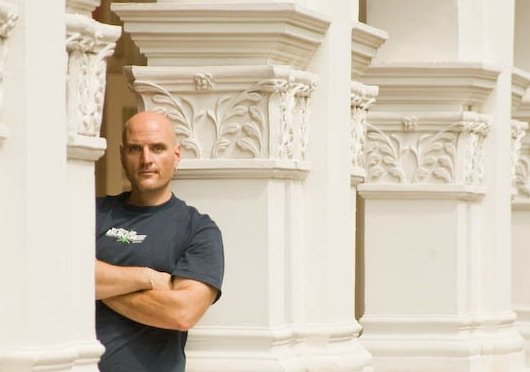 Raffles Hotel Singapore
The Raffles Hotel is where the Singapore Sling was invented. Darlene and I spent four days in Koh Samui Thailand before moving on to Singapore to visit my sister. We visited the country and I got some work done while she shopped. Had to see the Raffles Hotel though and have a Singapore Sling, one of the many things listed on my 100 Things About Me list. How much was the Singapore Sling you ask? $27