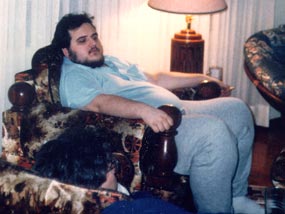 Me at 475 Pounds
In 1989 I weighed 475 pounds and at the tender age of 21, had a near heart attack.
When I made the choice to do something about my weight, it wasn't a "weight loss" program that I figured I had to go on, but instead, I focused my attention learning everything I could to improve my health. By improving my health, one step at a time, I got the weight loss I was looking for. It was a Jan 1st 1990 New Years Resolution that got me started on my journey.
I certainly didn't expect to lose 300 pounds, but that's what happened.
See more of my before photos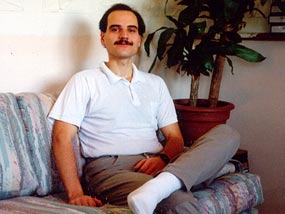 Me at 187 Pounds
After 2 and a half years (or roughly 28 months), I was 288 pounds lighter, weighing in at 187. I had learned a great many natural health principles and applied them all in what became a great big physiological experiment I performed on myself. With a total weight loss of 288 pounds in 28 months, I averaged 10 pounds a month and the only exercise I did was a 20 minute walking program. Some days, I walked 20 minutes twice a day, but that was it. No weight training and no body weight exercise at all. I'd do it a lot different if I had to do it all over again, but that's another story (that I teach people).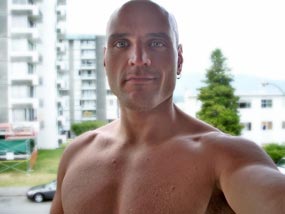 Me at 225 Pounds
This photo was taken in 2005 in Vancouver Canada after 13 years of weight training and a total of 15 years after I started this whole process.
At this point, no longer vegetarian, but still eating a diet based on whole foods and an abundance of organic vegetables (as much local produce as possible). Weight training using various methods for 13 years added over 50 pounds of muscle to my body, lowering body fat even further and making my weight loss a 300+ pounds achievement.
The foundational principles of my transformation were mental mindset, whole foods, supplements, whole food supplements, pure clean water and daily exercise of both cardiovascular and weight training. Especially weight training.
See more of my current photos.