Organic Dairy Farmers Need Support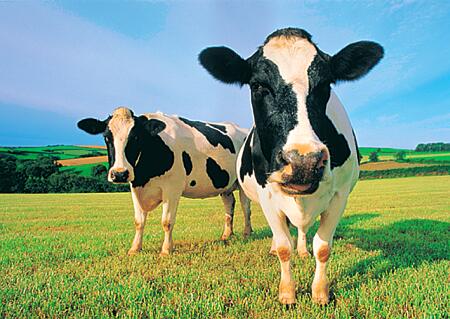 As you may be aware, I'm not the least bit for dairy. I don't believe it has any place in our diet. There is ample evidence by major universities and organizations in the world about the adverse effect of dairy on our bodies. T. Colin Campbell, in his book The China Study, proved a direct link between dairy and both diabetes and prostate cancer (pg 178).
Of course there is research done that shows the benefits of dairy, but when you look at who's performed them and dig deeper into the testing, you can clearly see that they're "making the science work" in their favor.
Some approve of dairy, many disapprove. It's not "pseudo-science" at all - it's real.
With both sides weighing in on the subject, it's up to us to make the final decision about what goes in our bodies. Weigh the evidence for yourself and come to your own conclusions. If you've been eating dairy for years, then I suggest taking the "
no dairy test
" for yourself for 90 days and see what happens.
Supporting Local Farmers
Now, hat said, I am very much for local farmers and especially like to support organic and bio diverse farming.
I believe that it's critically important to support local foods and to actually meet the people who grow it for us. If you eat meat, visit the farms of the local growers and see their operation first hand. Visit and support farmers markets. Know where you food comes from.
For those who want to consume dairy, there are better alternatives than cartons of milk for sale in the supermarket, and that is what this post is about. It's about knowing what's going on in or around your community. It's about becoming aware and support those who are doing good work.
from the
Organic Consumers Association
(OCA):
Boycott Bogus Organic Dairy Brands
The OCA has called for a boycott of bogus organic dairy brands such as Horizon and Aurora (suppliers to Wal-Mart, Safeway and other giant chains), who have inundated the market with misleadingly labeled "organic" milk produced on factory farms. Recently, the situation has worsened as organic feed prices have increased and recession-pummeled consumers have cut back on the amount of organic milk they are purchasing. The result is a surplus of organic milk, depressed milk prices, and an increasing number of organic dairy farmers across the U.S. being driven into bankruptcy. Consumers can support ethical organic dairy farmers and preserve organic integrity by boycotting Horizon and Aurora products and instead supporting local organic farmers and dairy cooperatives like Organic Valley and others.
read more about "When Dairies Watch the Good Times Turn Bad" (the
NYTimes
)
Labels: dairy, milk is bad, Organic-Food