Kilimanjaro Climb and Summit Photos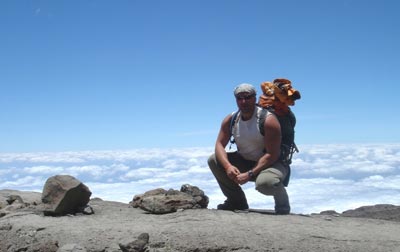 Kilimanjaro At About 4500 Metres
Believe it or not, I like this photo better than the one of me at the summit of Kilimanjaro (see below) so I'm placing it at the top of this post. It was taken by my tentmate and buddy Karel (see below) who I spent the week with along with 18 other people as we climbed Kilimanjaro. You can click the image to get the full size version if you like. It's 1024px wide, so suitable for your desktop background, lol.
Pretty much every day I hiked like this with just a sweat wicking shirt and not thermals on. I carried my coat this day as we were approaching the last camp and I didn't want to be caught off guard in case I needed it. It wasn't until the last day's hike (um.... night hike) that I needed more. In fact, I needed every piece of clothing that I had to keep warm. I hiked with no poles at all, so on that last night hike while everyone was freezing their fingers, I kept mind snuggly and warm inside my coat pockets. Albeit, I used a single chemical pouch handwarmer thingy, but my fingers were mostly warm.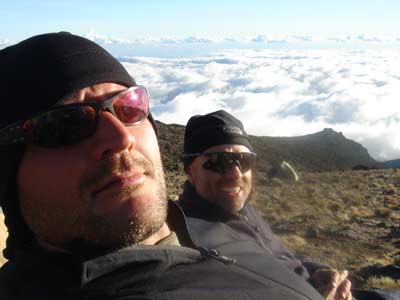 Me and Karel Enjoying The Mens Club
Karel, myself and other men ended up sitting around a little area outside our meal tent this one evening. We named it the
Mens Club
and then I took this self portrait of myself and Karel. You can clearly see the cloud cover far down below us. It was amazing to be camping and hiking above the clouds for so many days in a row. Sureal actually.
Kilimanjaro Uhuru Summit
After 8 hours of hiking, watching Orion rise in the distance, a
beautiful sunrise from Kilimanjaro
and freezing cold winds, I got to Stella point. After a short break, I headed on to Uhuru and reached it with Karel as the first of our group. About 10 minutes later a few others showed up and we took more photos. This is my kilimanjaro summit photo. It's also available in a larger format, just click the picture.
I vaguely remember what happened on the top of Kilimanjaro. The air was so thin and the oxygen so little, that I just plodded along on autopilot with my head down and breathing deeply. I remember some specifics of when I spoke with people regarding some critical decisions, but other than that, I just walked and breathed. My camera was broken about half way up the climb of Kilimanjaro (I stepped on it and destroyed the top half of my viewing screen), so I resorted to "best guess" photos. At the top, the batteries were barely responding even though I kept it inside multiple layers next to my body. Thank heavens for Karel and his camera. My summit photos were taken on his camera and he passed them along.
Related Kilimanjaro Climb Links
These are various posts I made before the climb and after the climb of Kilimanjaro.
Kilimanjaro Climb - the last post I made before leaving showing my packed Backpack and day pack.

Successful Kilimanjaro Summit - not suprisingly, the only post that month!
Tags:
Kilimanjaro
,
Uhuru
,
Stella Point
,
Kilimanjaro Climb
,
Tanzania
,
climbing
Labels: africa, kilimanjaro, tanzania, travel, uhuru