Going Green On St Patricks Day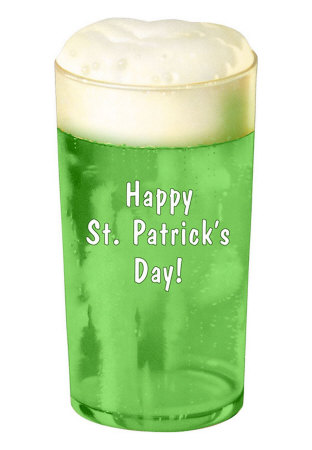 St Patrick's day is know for green beer, shamrocks and green underwear, at least in my mind. I think I've had green beer once, just to say that I did it, but this year my interest is more on green foods for St Patrick's day.
A very simple habit to begin is to eat green food every day, and I think St Patrick's day is a good time to start.
With that in mind, I offer some tips for going green this March 17th.
1. Start your day with a green smoothie.
Smoothies offer up their nutrients in an easy to digest format, are usually high in water content and can be spiked with ground flax seeds for increased fiber and EFA's. A recent poll on
liquid breakfasts
brought some interesting comments and opinions.
2. Eat a green salad every day.
Choose from the wide variety of nutrient dense foods on the
top 10 super foods
list along with high water content vegetables like peppers and cucumber. Choose a
healthy salad dressing
over store bought and you're good to go.
3. Make green soup.
Combine
over 7 green vegetables
and
1 green bean
into this
wicked green soup
. Made with nutrient dense, vitamin rich vegetables and "creamed" with cashews instead of dairy, this is a perfect
St Patrick's Day Green Soup
and one of my all time favorites.
4. Replace oranges with kiwi fruit.
Instead of getting your daily dose of Vitamin C from Oranges, choose
Kiwi fruit
instead. Kiwi fruit has more vitamin C than oranges and is considered to be one of the healthiest fruits you can consume and makes it into position four of the
top 7 fruits for vitamin C
.
5. Eat Broccoli.
Learn more about
how to steam vegetables
and then add steamed broccoli to your meals. Broccoli is a great base for a green soup as well.
6. Consider increasing your fiber with heart healthy green lentils
. This
lentil loaf recipe
is a regular around our house and is not only great fresh, but goes well as the main content of a wrap. Grab an Ezekiel wrap, lay down some hummus or red pepper spread, some day old lentil loaf, a handful of fresh mixed greens, some avocado, a pump or two of Braggs liquid amino's and it's "green lunch" time.
I'm restricting my alcohol consumption this month to a few select days. St Patrick's day is one of them, as I'm looking forward to the yearly tradition. Then, back to the bulk of my diet - green foods.
Labels: green foods, nutrient-density, Recipes, st-patricks-day