Equmen Undershirt with Core Compression Technology

I just received my
Equmen Core precision undershirt
. Billed as "compression clothing" that is designed to "immediately improve how men look and feel", I was quite excited when I was told I would be receiving one to try and review.
Equmen undershirts are designed with something called helix-mapping technology, and from what I can gather, it's a specially designed fabric that works with your body to improve posture and tighten the core.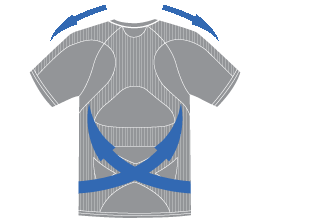 The shirt provides shoulder support, core compression, posture improvement, back support and ventilation areas. Truly remarkable. I've not seen anything like this before, but then again, I'm not in the market for undershirts – this is unknown territory for me.
Improved Posture
I immediately noticed that I sat and stood more upright with my shoulders back once putting it on and yes, I feel like I'm wearing body armor.
Based on the feeling, I thought I would be restricted in movement. I thought it would be tricky to bend over or move, but that is NOT the case at all. The Equmen undershirt version I got was the large size of the singlet or "muscle shirt".
I was approached by one of the reps through facebook and after going to their website
http://equmen.com
, I was fascinated with the science behind it and what I was going to be reviewing.
I literally could not wait to receive this product.
You may just want to improve your posture, get rid of back pain, or even make yourself look better in a suit. Equmen may just be the undershirt for you.
Where To Purchase Equmen Undershirts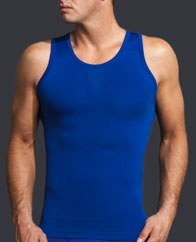 Originating in Australia, they'll ship anywhere in the world, but are available in a limited number of places at the moment. Currently available in the United Kingdom, the United States and thankfully, now in Canada (as of June 1st 2009) via Holt Renfrew (Vancouver, Toronto and Montreal) and then Calgary, Edmonton and Yorkville on October 25th. See all the available locations for Equmen on their website.
From what I can tell, the Equmen singlet retails for between $89 and $99 Canadian.
I've only worn the Equmen undershirt for less than 6 hours so my review is a little premature, but I'm already quite impressed. It's incredibly comfortable, I'm warm and my posture improved. So far, I love it.
Labels: equmen, review, undershirt