How SHORT Is Your Workout?
How long does your workout have to be to get the optimal results in muscle mass as well as the fat burning benefits? Should it be as long as a 2 hours so that you get a "great workout", only as long as an hour? It should actually be no longer than 45 minutes and if it is, you're not training with enough intensity. It should be shorter, not longer. The question the becomes "
How short should your workout be to receive the best muscle building stimulus?
" 45 minutes? 30 minutes? 15 minutes? How about
as low as just 7 minutes
?
[NOTE: this was a 5 day special that ended Sunday May 24th. This Half price sale is over]
I began my muscle building workout program back in 1991 when I was at my lowest weight of 187. At the time, I trained at home and my workout lasted about an hour.
I eventually outgrew my home gym and began training at the gym. My workouts grew to be over 2 hours in length with 30 minutes of that being abdominal training alone.
I trained 5 days a week, Monday through Friday, but by Friday, I was often too exhausted or just not interested any longer. I battled fatigue, burnout, low sex drive and was sick a lot of the time.
Fast forward 17 years.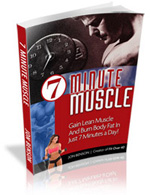 I saw this
7 minute muscle workout
routine that Jon Benson was talking about and to be honest thought it was so stupid. 3 minute abs and a complete muscle building workout in 7 minutes.
Ya right.
Then I listened to his "
How It Works
" audio, and thought "hmmmmm"
Then I heard from a very fit friend who said she collapsed during one of the workouts from exhaustion and then thought "what the hell is this thing?" and "I have to have a serious look at it"
I bit.
In January, I began using the it and got gains in strength and size very quickly from using the very short 7 minute routines.
I found that it was the most efficient thing I've ever done, not only in the time spent in the gym, but in the way it works. I'm able to sufficiently stimulate my muscle groups in the short 7 minutes and then walk out of the gym.
I'm saving a lot of time and I'm getting results.
I track all my workouts so I know when I'm progressing and by how much. In a couple of instances, I've had a 35% increase in strength from one week to the next.
I'm actually INTERESTED in going to the gym again, fascinated by the results and crave my workouts. Yes, I crave them again.
In February, following a week off in Vegas, I progressed to the second stage of the program which doubles the workout time to 14 minutes (two of the 7 minute routines back to back) and in some cases added in a portion of the 3rd stage.
I can split the 14 minutes into two workout sessions, one in the am and one in the afternoon, or if it's a rushed day, I can do it all in one session.
The other day, I was out for lunch with some buddies and one said "holy shit, you're packing on some upper body size"
That was great for the ego, let me tell you.
7 Minute Muscle for Half Price
If you're short on time, want to change up your current weight loss workout program, or have NEVER done a workout ever before in your life, this program is for you. For the next 5 days, I can offer the seven minute muscle workout for HALF price if you follow me on twitter.
===>
Follow Me On Twitter
If I didn't tell you about this amazing half price sale, I wouldn't be doing my job, and I'd never hear the end of it from my readers and subscribers (who I told about it on Saturday when I first heard)
I've had a lot of feedback since I began talking about it on facebook that "it sounds good but it's too much money."
Not for the next 5 days.
Like I said, when I first heard of it, I thought "How can this be possible in just a short 7 minutes" but in fact, the science behind it is sound.
We THINK we need to spend 45 minutes or more in the gym so that we're *really* working our muscles, when in fact, more is often not better. In fact, most of the time, more is not better.
It was when I began training every other day that I got my best results and my best gains.
Well, this 7 minute muscle program takes that to a whole new level.
With this program, there are three stages, and each lasting a whopping 7 minutes (plus 3 minutes of abs). The idea behind it is that you're getting the benefits of a 45 minute workout in just 7 minutes resulting in enough stimulus to make the muscle grow while at the same time reducing the impact on your central nervous system so that you're not stressing your immune system.
It's NOT easy, but it's NOT heavy and hard either.
In fact, the 7 minute muscle workout is probably the easiest way to get started in weight training for the obese individual.
It DOES require a gym, but other than that, it's very straight forward and designed to move your forward ever single workout. There were some weeks where I had a 33% increase in my strength from the week previous.
So here's the great part now:
I have been given access to a 50% off coupon, so that YOU can get this program at HALF the price, but it's only for the rest of this week.
I believe there are only 5 days left, so you have to act quickly.
What's the catch? …..
It involves twitter.
The half off coupon is available to anyone who follows me on twitter using this special interface. The
tweet a sale
interface allows me to offer the coupon to people who are use it to follow me.
Yes, you have to use the tweet a sale interface because it's what tracks who's following and who gets the coupon.
If you don't have a twitter account, simply create one, they're free, then
follow me on twitter
and voila, you will be sent to the special promotion page where you will get your coupon.
As a free gift as well, you will have access to a Carb Rotation Cookbook.
So:
1.
Follow me on twitter
(create a
new twitter account
if you have to)
2. get your
7 Minute Muscle Workout program
3. as a free gift,
get your Carb Rotation cookbook
as well
4. say hello to me on twitter and I'll follow you back.
That's it.
[NOTE: this was a 5 day special that ended Sunday May 24th. This Half price sale is over]
If you want to know more but haven't heard it yet, have a listen to the
How the 7 Minute Muscle Workout Works
audio first
Or read more about it at
7 Minute Muscle Workout
.
It comes with a complete video training guide too, detailing how the workouts should look. No reason that someone completely new to weight training couldn't get started right away.
The Seven Minute Muscle Workout is fantastic for anyone who's short on time and still wants to get in a serious muscle building workout, moms who are short on time, anyone wanting to break up the monotony of their current workout, or even first time weight trainers who want to build muscle so they can look better, feel stronger and burn more fat.
Labels: exercise, fitness, Muscle, muscle building, workout-programs