Vitamix Blender Question and Answer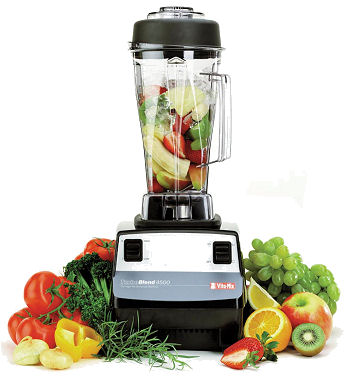 I've gone 18 years now since I first began my natural health journey, and for the full 18 years I've not yet purchased a Vitamix blender or other similar whole food processing blender. I'm now in the market for one and have been researching the various models, the pro's and cons etc. During my research, I was happy to receive Organic Annie's monthly newsletter in which she answered a question about this very subject.
When I do buy one, I'd either get the
Vita-Mix 1300 TurboBlend 4500
or
BlendTec HP3A
Q.
I have some questions for you... I'm looking into buying a blender such as VitaMix or KTec and wondered if you have any thoughts on how these perform. Also, I've read that with some juicers/blenders the nutrition oxidizes faster and so you need to drink it soon after making. Will you share what you know about this, too? Thanks! Sherri
A.
Hello Sherri, Vita Mix is recommended because the blade rotates in both directions therefore, supposedly, protecting the magnetic polarity of the food molecules. But I'm not impressed with the way it works for everyday tasks, including grinding flax and chia seeds. I've found that the Oster model #6855, 14 speed blender is very well designed and works efficiently for all of my blending tasks. It has a glass container too which I would definitely insist upon.
To realign the polarity, I usually place the blender on a large magnet for a brief period--a minute or so. But honestly, I don't know how important this really is. As far as oxidation is concerned, I'm not aware of one blender being better than another. Any time food is broken down and pieces exposed to air there will be oxidation. And of course, it's best to consume raw foods while fresh or enzymes will break it down. I hope that this is helpful. ;-) Be Well, Annie

Annie Miller-Cohen, a.k.a. Organic Annie, is a certified iridologist, special diet (wheat/dairy/gluten-free) counselor and green gourmet chef/author. Her publications include OA's Fresh Tastes for Breakfast and her monthly Green Gourmet e-newsletter. All are available from her website:
www.OrganicAnnie.com
---
I've know about the Vitamix blender for years. My buddy owned one years ago, but I never dived into
making a blended salad
. I've been using my own blended to make my
post workout green smoothie
, but want to kick it up a notch, get the vitamix or Blendtec blender and give them a go.
Vitamix blenders are what you see at the local smoothie shops around your town. We have Booster Juice's here in Edmonton and they use the commercial version. The blenders are roughly $300 to $500 dollars and are quite different than a juicer.
I'll be doing a full report on the differences between a juicer and a blender in another post.
While I've got your attention, leave a comment with your experiences if you've got the vitamix or the Blendtec blender please. I'd like to hear from you.
Labels: Blended-Salad, Blenders, Blendtec, Juicing, Organic-Annie, Vitamix