Worlds Strongest Girl - Varvara Akulova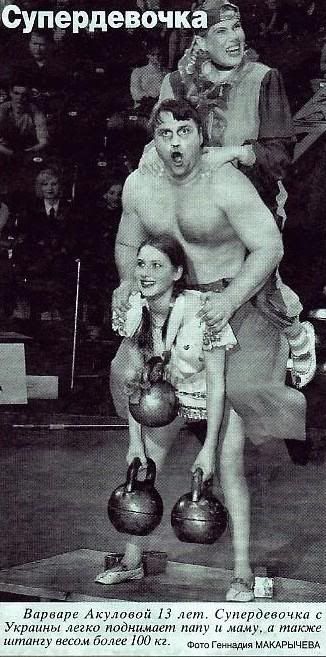 Strong Ukraine girl, Varya Akulova, 13 years old now, but most of the pictures on this site show her at age 6.
She trains using
Kettlebells
(of course), and other than that I don't know much about her. Just happened to
Stumble upon
her tonight.
Strong women fascinate me.
Women who train for strength, endurance, bodybuilding or weight loss, it doesn't matter, any woman who takes the incentive to work hard, and build strength fascinates me.
Recently, I posted some video of strong women:
Barbie Barbell doing Deadlifts
- she's only 17 and holds world records

Barbie Barbell doing bench press
Strong women doing pullups
An incredible display of
Strong Women doing pushups
- incredibly powerful pushup video
There are a lot of times that I feel that there are a lot of women who are stronger than me, and that inspires me. It inspires me to train harder myself, to become better and to inspire others, men and women to become better.
Varya does some pretty spectacular feats of strength. Here's one she did
Visit
Varya's website
You can do it. Start training, learn about foods, work harder - day by day and become your best. You deserve it.
Varya has training costs,
donate and help her out
via
TutzTutz
Labels: exercise, fitness, strong-women, women