How To Find A Fitness Center Around The United States
Ever wanted to find a gym or
fitness center
in a location that you're going to be spending some time in? Are you a business man making frequent stops all over the US or are you simply traveling around the country and want to stay in shape?
Either way, you'll want to know where you can find a fitness center that fills your needs or track down your own gym in another city.
I spent most of 2005 and 2006 on the road and I wished I had access to Gym Ticket's database of fitness centers as it would have made my training much easier.
Their search feature is amazingly simple. You can find your nearest gym or fitness facility by simply entering a zip code into their search function, or an address. Otherwise, you can choose to search for all gym's by city, or by brand.
I took it through a trial run with Palm Springs as my destination. I spent a lot of time at the Highland Springs Resort at Beaumont in 2006 and visited Palm Springs once for dinner. Nice enough place, might go back and climb that mountain it backs onto.
So I decided to look for a specific brand. I wanted to
find a Golds Gym in Palm Springs
. I clicked the "Search by Brand" and picked Golds Gym. Then I chose from the list of locations that were displayed and chose Palm Springs.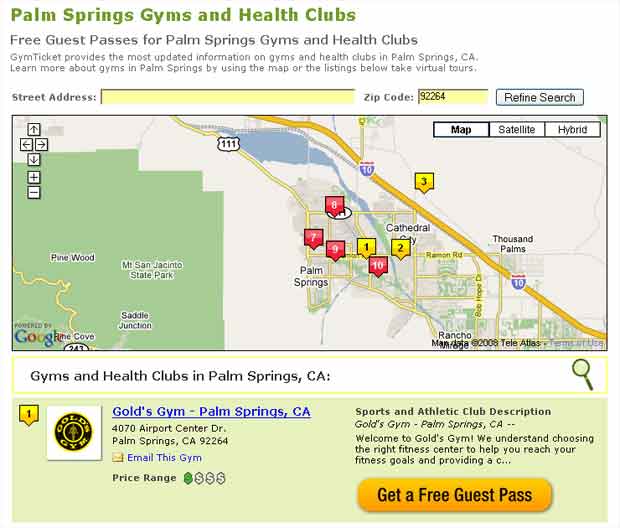 The resulting fitness center search page showed me a Google map with the location of the gym and the actual address. I could email the gym from here if I had to ask them something and a list of the gym's full amenities and hours was one click away. I especially liked the ability to have a free guest pass sent to me if I was really going to be visiting the gym. This was just a test remember.
From the amenities page, one further click led me to all the other fitness centers and gym's in Palm Springs.
GymTicket.com
's interface is extremely simple to use. A location or a gym brand name is all it takes to
find a fitness center
in the city you're traveling to and it even offers free passes. Gym Ticket had a database full with locations and brand name gym's so it's not lacking in options. Gym owners can also join and have their fitness center added as well.
I am certainly going to use this for my next trip to Vegas this spring.
I am very happy to have had the chance to do this paid review of Gym Ticket
fitness center database
. It has my full approval.