McDonalds Advertising On Report Cards - Get Good Grades - Get a Happy Meal!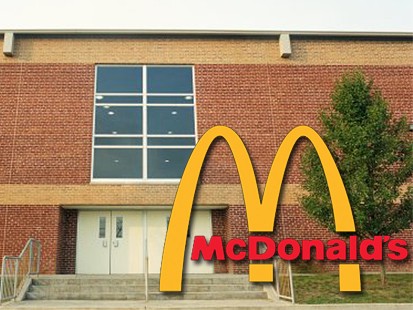 About 20 million children in the United States qualify as overweight or clinically obese, according to the U.S. Centers for Disease Control and Prevention and now 37 schools in Seminole County, Fla. are contributing to it through a corporate-sponsorship program that awards high-achieving students with
McDonald Happy Meals
.
The "report card incentive," as the program is known, is explained on the front of specially produced envelopes bearing the image of Ronald McDonald and in which the report cards for every student in the county's 37 elementary schools are sent home.
The incentives are described as "food prizes," and a report card of all A's and B's or an attendance record blemished by just two absences is enough to earn a student a free Happy Meal.
source
John Banzhaf III, a law professor George Washington University says
The next thing the school should offer is cigarettes and alcohol. … Why aren't schools selling Hustler or Playboy magazines out of vending machines too? Schools shouldn't be selling things that endanger children just to make a buck.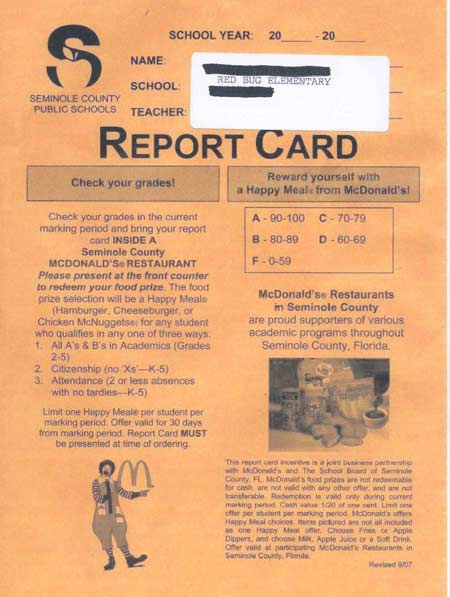 The Campaign For a Commercial-Free Childhood released a
press release
demanding that McDonalds immediatly stop advertising on children's report cards
this promotion takes in-school marketing to a new low. It bypasses parents and targets children directly with the message that doing well in school should be rewarded by a happy meal
says Susan Linn, the director of CCFC and psychologist at Judge Baker Children's Center.
the press release states the Happy Meal promotion explicitly mentions cheeseburgers, French fries, and soft drinks as options. Happy Meals featured on the report card can contain as many 710 calories, 28 grams of fat, or 35 grams of sugar.
one parent was quoted as saying that her daughter worked so hard to get good grades and now thinks she has earned a happy meal. The parent has to be the "bad guy" and explain that McDonalds is not the kind of food that they eat.
what is happening in our schools?
Labels: childhood obesity, kids, mcdonalds