Calorie Restriction Weight Loss Program For Longevity
Since the 1930's studies show (in rodents, dogs, cows, mice, worms, spiders and monkeys at least) that by restricting calories, we can extend life. Calorie restriction also reduces the incidence of virtually all diseases of aging such as cancer, heart disease, diabetes, osteoporosis, auto-immune disorders, neurological decline and diseases such as Alzheimer's and Parkinson's. (
source
)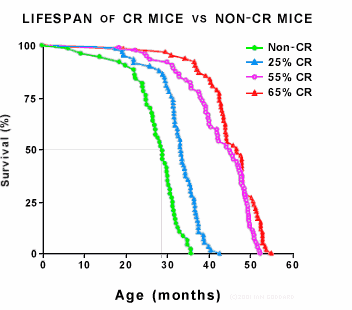 No tests have yet to be done on man, however, in 1991, quite by accident, 8 scientists sealed themselves up in a giant airtight terrarium in the Arizona desert for a 2 year experiment on self sustaining ecosystems called Biosphere 2 and quite quickly found that indeed, they could not grow enough food to support themselves.
Roy Walford, the team's physician, had been studying calorie restriction diets for a number of years and convinced his fellow scientists to give it a try.
I don't really think they had a choice.
When their project ended and they exited the bubble …
tests proved them healthier in nearly every nutritionally relevant respect than when they'd gone in
Walford is the author of The Anti-Aging Plan: The Nutrient-Rich, Low-Calorie Way of Eating for a Longer Life--The Only Diet Scientifically Proven to Extend Your Healthy Years, but himself passing away at the age of 79 from Lou Gehrig's disease. Ironically however, caloric restriction may have accelerated the course of ALS for Dr. Walford, as mice genetically engineered to develop ALS experience faster disease course and shorter lifespan when placed on a calorically restricted diet
I've done my own bit of calorie restriction as part of an experiment of ABCDE, Anabolic Burst Cycling of Diet and Exercise I did back in 2003. ABCDE is about two week cycles of diet and exercise. Two weeks of double caloric intake plus 1000 calories along with heavy lifting 3x a week and no cardio. This is immediately followed by two weeks of lower calories (in my case, 1800 per day) along with cardio and light weight training just enough to keep the muscle built during the first phase.
The idea behind ABCDE was presented to my by Bill Phillips during an interview he did with the ABCDE designer and I followed this program for 2 months. In a way, I experimented with a version of the calorie restriction program.
Calorie Restriction Test
What would it be like to follow this program for 2 months?
That's the premise behind a story done by New York Magazine writer Julian Dibbell who did an
entire 2 months on a calorie restricted diet
. Her account leaves her 20 pounds lighter, an improved sex drive, dreams of immortality and, well, hungry.
I'm not sure if it's worth it really.
I enjoy food and I always have.
I'd be lying if I said I didn't enjoy the junk food I ate when I was younger, but have now come to love whole foods, imported beer and great wine.
I've often said that the reason I train so hard is because I like eating. I love training hard for all the benefits it provides both physically, mentally and emotionally and then I get to eat more too.
Is calorie restriction something you do or would consider doing? Read the
Ultra Extreme Calorie Restriction Diet Test
and make up your own mind. Personally, I'd like the freedom of earning my food because of the work I put in.
But hey, that's just me.
Labels: Calories, Diet, longevity, weight loss