Vegetarian Challenge Week Starts Today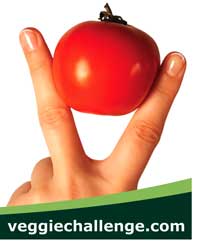 Today is day one of the
Vegetarian Challenge
posed by Toronto based veg group. The idea was posed by Christine (
One Smart Cookie
) a member of my
weight loss forum
, who recently joined my girlfriends and mine Sunrider Group. She's making changes in her eating habits and including more green smoothies, Sunrider foods and transitioning from a meat based diet to a vegetable based diet.
Christine found this vegetarian challenge website and then started a
facebook group
by the same name.
The Veggie Challenge offers prizes, a once a day email with meal suggestions and product recommendations to help keep you on track. From the testimonials on their website, there have been a number of people who have made the transition to vegetarianism based on this challenge.
One such testimonial from Wayne

I had been thinking about going vegetarian for a long time but it was this challenge that made me consider it seriously.


– Wayne, 30's, from meat-centered to mostly vegan
And another from a teen who shocked her family when she started eating better:
My family was absolutely shocked that I had decided to go vegan. They kept telling me that I wouldn't get enough nutrients and would die of malnutrition.


– Monica, teen, from vegetarian to vegan
It always amuses me that those who choose to eat more nutritiously are criticized by those who are simply guessing about it.
Trust me, when you eat more vegetables and especially more leafy green vegetables, you're eating better than most people. Vegetarians are just as concerned about carnivores as carnivores are about vegetarians, however, in my opinion, vegetarians are better informed when it comes to nutrition, more so that Registered Dietitians even who still promote dairy products and are not aware of the importance of alkalinity or pH levels.
The
Vegetarian Challenge
lasts 7 days from Nov 12 through Nov 19th. For more information have a look at the
Vegetarian Challenge
website and consider joining the
Veggie Challenge Facebook Group
.
ps, expect more vegetarian nutrition information from me in the upcoming days, weeks, months and years
Labels: vegetarian