Take The Vegetarian Challenge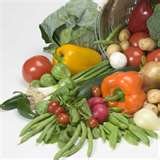 A member of my
weight loss forum
and brand new Sunrider, Christine has taken up her change in eating with a passion. Darlene and I first started coaching Christine a few months ago when she joined Sunrider and is now as familiar with Kale and brown rice as she once was with meat and potatoes.
Christine has put forth a challenge to eat vegetarian for a week, November 12th through 18th and is launching it though the
Vegetarian Challenge facebook group
.
I would like to challenge everyone to eat vegetarian for the week of November 12-November 18th. Not only will you try new recipes without meat but you can try something different. It is a great opportunity to leave your ecological footprint and introduce healthy new food into your day! Have fun with it and share this with your friends. I'd love to hear how you feel about it, any recipes and how it might have made an impact on you!
Join the group
, post your thoughts and results on the wall and for fun,
add me as a friend
.
Labels: vegetarian