My 90 Percent Vegetarian Diet
I recently got a reply to one of my posts from a reader who was so happy to have me back as a vegetarian and expressing her sadness at having lost me a few years ago (lost to vegetarianism). I laughed, in a good way. It's nice to have a great group of people of like mind making a conscious decision about their health and the effect on our planet.
I'm not 100% vegetarian and I don't promote 100% vegetarian though.
I should be clear that I'm not against being vegetarian either.
I'm not in a place anymore to be completely against animal protein any more but rather feel that it's all about eating healthy and that eating being easy and effortless.
What I do promote and you'll be hearing about more and more is about a 90% - 10% vegetarian – meat based diet. I still don't have a name for it really and it's not 90% vegetarian per day, its more in line with cave man eating, that is 5 to 7 days ore more of vegetarian / vegan meals followed by a couple of days of a diet plentiful in vegetables, nuts and seeds along with good quality lean meats such as Bison, elk or free range chicken, then a return to vegetarian for a week or so.
Here's a recent meal I prepared and photographed.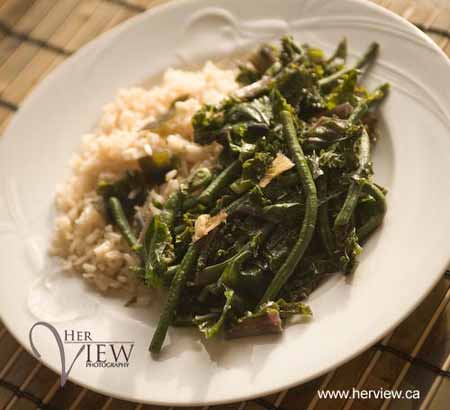 This is a very simple yet nutritious meal of brown rice with mixed green's consisting of Kale, Kai Lan (or Gai Lan) which is a Chinese Broccoli or Chinese Kale and some green beans for good measure. Kale is highly nutritious, being very high in beta carotene, vitamin K, vitamin A, vitamin C, lutein and reasonably rich in calcium. It's one of my favorite leafy greens that I try and eat multiple times on a daily basis.
Mixed Greens With Garlic and Ginger
1 or 2 stalks kale
1 stalk kai lan
green beans
2 cloves garlic
1/2 inch ginger root
Sesame Oil
Steam Kale, Kai Lan and Green Beans in a steamer. While steaming the green beans, put a Tablespoon of sesame oil into a frying pan and heat. Slice the garlic and ginger into the pan and fry for 2 or 3 minutes.
After the greens have steamed for about 5 to 7 minutes, remove from steamer and put into frying pan. Toss the greens in the garlic, ginger, sesame mixture until coated.
Remove from heat and put on plate with whole grain brown rice.
Personally, I spray
Bragg's
on my brown rice and Kale and recommend the same. To complete the meal, consider adding a small portion of lentil Dahl to the meal.
My girlfriend Darlene is a professional
photographer
. She's been taking all the photographs of the meals we're preparing for her
whole food recipe
posts on my other blog. This photo however, I took. I prepared it and I took the photo, so I'm happy to have it posted here. It says "her view photography" on it and in a discussion I'm having right now as I type this, Darlene says "it's my camera, it was taken in my house, so it's going to have my name on it". lol
I've been on every side of the coin, having had a diet of no nutritional value filled with junk foods, fried foods, lots of coffee and pop, then a vegetarian diet followed by Vegan. After being vegetarian for 12 years and vegan for two, I brought meat back into my program. At one point it was 50% or better of calories with some veggies sprinkled in for color.
Currently, I'm following a 90 – 10 diet with 5 to 7 days or more of vegetarian based meals and then a day or two of meat.
What I'm doing is simply increasing whole foods with a focus on the higher nutritional value foods like green leafy vegetables, nuts and seeds.
Then I get some Bison or Elk and make a meatloaf which lasts about two to three meals, or have some free range chicken or feel free to eat some chicken when I'm out. What I'm not doing is stressing about it. I'm eating higher on the nutritional scale and doing it for a number of days in a row, then adding in good quality lean meats.
I'm not vegetarian and I'm not eating a meat based diet.
I am eating a whole food diet focusing on higher quality nutrition and becoming more alkaline. If it turns out that I go a week or two without meat, I'm cool with that and so is my colon.
Now, this being the vegetarian challenge week, I am 100% vegetarian this week.
Other Vegetarian Recipes
Here are some previous recipes that Darlene and I have made over the past few months
Broccoli Lentil Soup
Baby Carrots, Asparagus and Kale on Brown Rice
Roasted Asparagus and Red Peppers with Sesame Seeds
Kale Soup with Quinoa
The photographs you see that accompany the recipes are the ones WE took of the recipe, just after we served it and immediately before we ate it. Yes, we eat these meals ourselves. (we've been asked)