How To Freeze Foods - The Ultimate Guide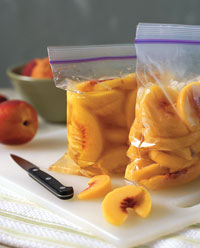 When it comes to freezing foods, this
ultimate guide to freezing foods
walks you through what you need to know when it comes to frozen fruits, vegetables, nuts, meats, seafood and pastries. From how to prepare each individual food item, to packaging, to helpful tips on how to prevent fruit from going brown and what foods can't be frozen.
Scott Bird
has a passion for cooking and it comes through in his writing. Scott has previously written a 4 part series on
Healthy Asian Cooking
,
How To Choose A Kitchen Knife
,
Stocking A New Kitchen
and even
Worm farming
.
His recent Ultimate Guide To Freezing Foods has been a runaway success with over 730 Digg's in the first 2 days.
For anyone new to cooking or just wanting a good resource, visit Scott's
Ultimate Guide To Freezing Foods
. Bookmark it, print it and share it with friends.
This is part one of a two part series, so make sure you leave a comment on the post so he can alert you when part two is available.