Dark Chocolate Part Of A Vegetarian Lifestyle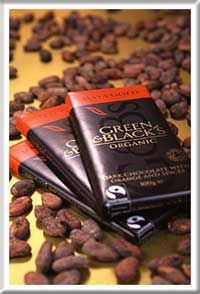 Should dark chocolate be part of a vegetarian of vegan lifestyle? Sure why not?
A report in the journal of the American medical association from 2003 says that dark chocolate indeed does offer antioxidants that help lower blood pressure in those with moderate high blood pressure.
And of course, the findings show that milk interferes with the absorption of those antioxidants (as it does with all nutrition of course), so avoid chocolate with milk in it. Actually, just plain
avoid milk
ok?
In a report in a 2003 copy of nature, Mauro Serafini, PhD says
Our findings indicate that milk may interfere with the absorption of antioxidants from chocolate ... and may therefore negate the potential health benefits that can be derived from eating moderate amounts of dark chocolate.
So eating chocolate isn't so bad for us. Choose dark chocolate over milk chocolate and choose a good Cabernet Sauvignon to go with it.
My Advice, just as you should choose the the best red wine, choose the best dark chocolate.
Chocolate, good for vegetarians and meat eaters alike. In moderation.