Turning Fat Into Bone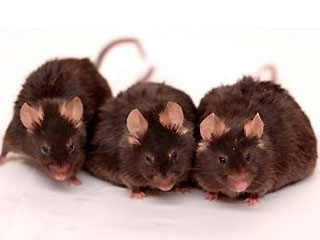 Standing on a vibrating platform for 15 minutes a day, 5 days a week is turning fat into bone, at the rate of 27% At least for mice.
Dr. Rubin, director of the Center for Biotechnology at the State University of New York at Stony Brook, is careful not to have us jump to any conclusions just yet but he and many others are finding this test done with mice, using no drugs, to be quite interesting
Interesting enough to have the National Institute of Health do a full study with elderly patients.
.
The mice in question stand on a small platform that buzz's at a specific frequency, for 15 minutes at a time for 5 days a week. When they get off, they're 27% less fat and have 27% more bone.
What I'd like to know is, what size of a platform would a human have to use?
Dr. Rubin and his colleagues caution that
it is not known if standing on them strengthens bones in humans. Even if it does, no one knows the right dose. It is possible that even if there is an effect, people might overdose and make their bones worse instead of better
See the
NY Time Health article
for more info
Labels: news, weight-loss-science