Unstoppable Fat Loss Interviews For Free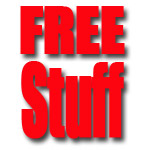 How would you like an entire collection of motivational audio clips with the
worlds best physique transformation experts
along with The Fit Bastard's and The Fit Chic's ebooks for free? These are not just inspirational, these are
Unstoppable fat loss
experts. The kind of people that show you that anything is possible if you put your mind to it and truely want to make a change in your life. Scott asks a very simple question.
Just what exactly do you think it takes to achieve your dream body?
Think about that for a moment. Got any idea? Have no idea? Seriously, what do you think it takes?
That's the question my friend Scott Tousignant is asking over on his blog
Unstoppable-Fat loss
and he's giving away his entire collection of motivational and inspirational audio interviews of which I am a part. He's adding to that, his and his wife's (the Fit Chic) ebooks for free. Part of what he's giving you is his $47
Unstoppable Fat Loss
interview set.
I am very happy to be a part of his interview series where Scott interviewed me for a full hour asking what it was that got me started, kept me going and continues to inspire me to take action on my health and physique.
Now, when I say unstoppable, I really mean unstoppable. I've talked about this before, about people who always seem to come up with a reason that they can't do it. They're disabled, or they don't have the money to eat better, or they don't get the support from their spouse, or whatever.
well, who's life is it anyway?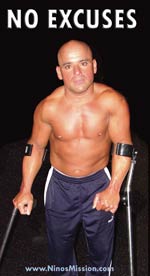 What about Nino Savona? Nino is someone who is living the Unstoppable Lifestyle.
Nino was born 3 months prematurely. His parents were told that he was simply too small and underdeveloped to survive and that they needed to prepare for the worst.
A priest was called to the nursury and read Nino his last rights. But it looks like life had other plans for Nino!
Nino grew little by little until he was well enough to go home from the hospital after several months. In his childhood he underwent corrective leg surgery that was unsuccessful. Nino was left having to rely on crutches or a wheel chair in order to get around.
Later in life Nino decided that he wanted to become as fit as possible. When he tried to join a gym, he was told by a professional trainer that, "it would be unsafe for him to use the exercise equipment".
What a good thing Nino decided not to listen to the "No's" and to block out the negativity!
Nino decided that he couldn't accept the limitations that others were trying to impose on him.
Was it easy for him to get where he is today. Absolutely Not!
Nino pushed himself physically and mentally to develop a body that was healthy, fit, and conditioned. He achieved his dreams!
Scott interviews Jon Benson, Tom Venuto, Dax Moy, Donna Krech and many others including
Dr. Joe Vitale
* Author of "The Attractor Factor." Lost over 80lbs applying the teachings of The Law Of Attraction.
Clark Bartram
* Creator of "Chisel Your Abs"
Jim Katsoulis
* Creator of "Addictive Health" and "Program Yourself Thin"
Fran Harris
* Author of "Will The Real You Please Stand Up", creator of the "Booming Women Conference", former WNBA Star.
Shane James
* Creator of "Weight Loss and The Mind"
Marna Goldstein
* Author of "Naturally Thin Secrets" and "Attracting A Thin You"
James Villepigue
* Author of "The Body Sculpting Bible" Series, "Mind Over Muscle", "Goal Mining", and "Zone Tone"
Kevin Gianni
* Creator of "The Fountain Of Youth World Summit" and "Live Awesome"
Scott York
* Creator of "Your Business Body", "Fitness Figure Reality", and "Bodybuilders Reality"
Roxayn Daniels
* Creator of the "Total Transformation Challenge"
Zach Even-Esh
* Author of "Real Man Fitness" and "Underground Strengths Manual"
Kyle Battis
* Author of "Home Gym Secrets" and "Traveling Trainers Guide"
I've been listening to the interviews when I go for my walks and truly, sincerely think that it will make a difference in your life. If you were to get just ONE piece of information that changes how you think and helps you get results, then it would be worth it wouldn't it? Have a look at the
Unstoppable Fat Loss interview series
so you know what you're playing for at least.
What do you think it takes to create your dream body?
Scott's contest is open until October 1st 2007, then he picks a winner and gives his entire product line away. Go enter your answer. You understand that when I say it's free, that I mean, it's absolutely free right? no cost to you? no charge. Free.
Labels: fat loss, unstoppable, weight loss