National Walk To Work Day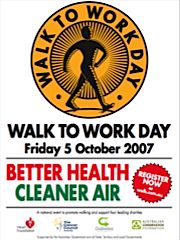 Give your car a rest today, get some clean air into your lungs and stretch your legs by participating in the annual walk to work day on Friday October 5th, 2007. Not only will you be supporting the environment, but also four charities in doing so.
Thousands of Sydney workers will be improving their physical and mental health, creating a cleaner environment, saving on petrol and reducing traffic by leaving their cars at home and walking to work on Friday 5 October 2007.
I got the alert from
Scott Bird
over at
Straight To The Bar
. Scott is passionate about the environment and has been contributing regularly on Former Fat Guy Blog with posts about Strength training and cooking. His latest contribution was
10 Ways You Can Help The Environment
.
I have recently taken up
walking
again, so I'm happy to pass along this information. The project is Australian based, but that doesn't mean you cant participate. Friday October 5th, Walk To Work Day.
Labels: walking