Knowing Your Metabolic Type For Weight Loss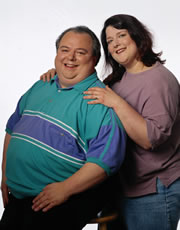 So why does the latest diet not work for you? The latest weight loss craze has hit and your buddy gets results, but you don't. "But the diet made the front page of the New York Times?" Yep, it's your genetics or your destiny to be fat right? More psychological pain and distress because again... everything you've tried for weight loss has failed. Miserably.
Well, here's the deal.
Each of us is different! Surprise surprise. We're each a collection of hormones and chemicals, water, bone and muscle. We've each got things going on a little different than our buddy in the next cubicle. You know the type, eats all the fruit he wants and drops pounds like he was melting.
What's the solution?
Eat for your body. Your body, not your buddies body. Eat the food that is designed to keep you balanced, alkaline and feeling great.
Did you know that in some cases, lack of nutrition, inner starvation, the starvation of your very cells and dna can lead to what seems to be mental illness? My friend and Inner Biochemist had this to say on a recent post about this subject

...I bet you didn't know inner-starvation-induced neurosis and psychosis cannot be differentiated clinically - from functional mental illnesses? Many mistakenly believe this to originate in much more complex psychological conflict, and trauma?
So how do you find out what foods to eat?
My Ultra Homeopath physician is now writing for my new weight loss community and posted her first article in a series about this very thing. From what I understand (and she will correct me if I'm wrong), is that there are three basic metabolic types:
Sugar Burners, Fat Burners and Sympathetic
Sugar burners will need to eat more protein, more fat and fewer carbohydrates, eliminate wheat and favor certain vegetables with protein. And here's a kicker.. Sugar burners should be AVOIDING certain multi vitamins because they take us further out of balance. I say us because I believe I'm a sugar burner.
Find out all the details about what to eat, and especially what to avoid to get results. It's not as complicated as you may think, even though the explanation and the science behind it does. Find out
what to eat for a sugar burner metabolic type
.
My
Ultra Homeopath
has a simple online test that can determine your metabolic type and a bunch of us from the weight loss community are already involved. Myself, my girlfriend, Jessie and a few others will be writing about what sort of results we got, what we found out and how we're applying it.
So, where one mans food is another mans poison, wouldn't it be easier to find out exactly what you should be eating? Skip the testing and guessing and finally get to the root of the issue.
Read this first article that describes
Sugar Burner Metabolic Type
, sign up for the daily blog posts and then follow along with her next explanations of the Fat Burner type. Find out more about the simple
point and click online tests
that you can take to determine your metabolic type.
You'll be glad you did
Labels: Metabolic-Types, Sugar-Burner, weight loss