Get More Traffic To Your Weight Loss Blog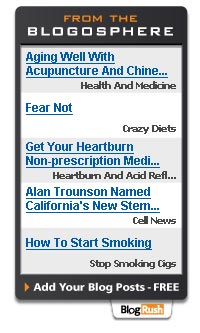 You're a blogger who has a message to get out to the world. You're blogging about weight loss, or health, or fitness or anything else you're passionate about. You want eyeballs on your writing because you can't change a life, or get the information to the world if nobody is visiting your blog.
Right?
Enter John Reese's latest traffic generation tool
BlogRush
.
If you don't have a blog, then this doesn't apply to you so feel free to skip down to the next post.
However, if you have a blog and you want swams of traffic to it, for whatever reason you can come up with, then I urge you to check out
BlogRush
.
It's quick and simple to install, and then shows a small list of links from other related blogs from the blogosphere. You're sharing links with other related website owners in a little device like what is shown here. The active one I have running on this website is a little farther down on the page, but you get the idea. This is worth your time to investigate further. Head over to
BlogRush
and have a look at their short video that explains the whole process.
Again, quick easy traffic for your blog.
Share you're love and passion for writing with more people. More people, more lives changed. Get involved. Take action, do it now.
Get BlogRush