10 Reasons Sugar Is Bad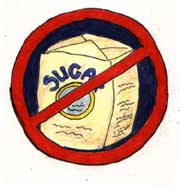 I'm sure that you know your body is a sugar machine right? At least I think you know that. Your body runs on sugar, it's a sugar machine. However, it's food that gets properly digested and then converted into a special type of sugar that your body runs on, not table sugar.
Too much sugar, eaten directly, can and will mess with the fine balance your body has already put in place. Too much sugar can tax your pancreas while it deals with blood sugar regulation. Tax it for too long and it will give up, ending in blood sugar disease such as Diabetes.
:Kristine, my
ultra homeopathic physician
was to submit a very up close and personal article on the truth about sugar, diabetes and syndrome X, but alas, it was not meant to be this week. Computer issues have put the article on hold for at least one more week while she sources out a replacement computer.
I'll be reintroducing a few of the top reasons that sugar is bad for you over the coming days and weeks, starting with these from Nancy Appleton, Phd. author of the book Lick the Sugar Habit.
10 Reasons Sugar Is Bad


Sugar can suppress the immune system


Sugar upsets the mineral relationships in the body


Sugar can cause hyperactivity, anxiety, difficulty concentrating,
and crankiness in children


Sugar can produce a significant rise in triglycerides


Sugar contributes to the reduction in defense against bacterial infection (infectious diseases)


Sugar causes a loss of tissue elasticity and function, the more sugar you eat the more elasticity and function you loose


Sugar reduces high density lipoproteins


Sugar leads to chromium deficiency


Sugar leads to cancer of the breast, ovaries, prostrate, and rectum


Sugar can increase fasting levels of glucose


This is a partial list from
124 Reasons Sugar Is Bad
, just to wet your appetite for this topic. :Kristine will be submitting her article next Thursday on my other
weight loss community
blog