Great John Toilet Supports 2000 Pounds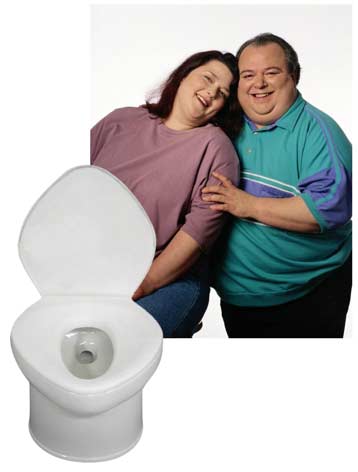 Great John Toilet For Big Bums
When I first saw an article about this toilet, I thought it was a gag, but I've since changed my opinion after reading more.
The Great John Toilet is the creation of a company that designs bathroom products for larger sized people. They're filling a need for a growing America.
This toilet is 150% larger contact surface than normal but also allows for children or smaller sized people to use it as well. The toilet seat is 6" longer in front and 17" higher which makes for ease of getting up. The seat is designed so that it wont shift or pinch under the weight.
Personally, having been nearly 500 pounds myself, I see where this Great John Toilet would be an asset to the larger individual. It has a 2000 pound capacity as well.. er.. for the person, not bowel movements.
For more info about Great John and their line of bathroom products, visit
GreatJohn.com
Labels: Friday-Fun