90 Day Total Body Makeover Personal Training
How would you like a step by step guide to creating your very own personal training program that would never grow old and never become boring? Sound impossible? How would you like to be able to workout anywhere, anytime with any equipment and be coached on how to design your own fitness program?
JJ Flizanes founder of
Invisible Fitness
and I have come together to offer you exactly that!
JJ Flizanes was selected as one of the
top six personal trainers for 2003
by Shape Magazine and was recently selected as the
Best Personal Trainer in Los Angeles
by Elite Traveler Magazine's Global Black Book "Best of the Best". JJ has appeared in many national magazines such as Fitness, Muscle and Fitness HERS, Elegant Bride, E Pregnancy, and more.
JJ's program has a 100% money back guarantee and is providing amazing results for so many people of all walks of life.
Have you ever bought a program only to outgrow it and get bored with the exercise routines?
90 Day Health and Body Makeover
The 90 Day Health and Body Makeover is designed to grow with you and will allow you to design your own programs so you'll never get bored. Workout with any type of equipment or with just what you have at hand. It doesn't matter.
I am all about creating passion for fitness and to help you take action on your weight and dream body.
This system will allow you to overcome any reasons you have about not being able to do a workout.
as JJ and I both agree, "You've Got Reasons or You've Got Results".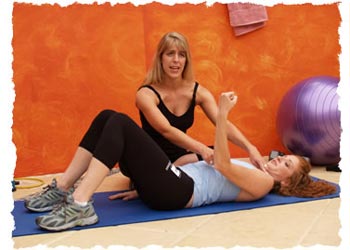 Now, here's the special treat:
JJ has created and is testing a brand new way to get involved. She has created a train from home program that allows you even more freedom and camaraderie with the other participants as you learn that "you're not alone".
This new 90 Day Health and Body Makeover Program will begin Monday August 27th at 8 PM Pacific time (West Coast time) and include everything from the original program.
What you get:
90 Day Health and Body Makeover Workbook
90 Day Health and Body makeover DVD
Gym in a Bag
What's Missing In Your Weight Loss Plan 3 CD Set
Metabolic Makeover 3 CD Set and Workbook
Inspiration to Realization and
Achieving Physical Wealth
JJ's coaching by phone Total Body Makeover program is so new, there isn't even a website that I can send you to about it. You can have a look at the one on one coaching program at 90 day total body makeover, but to learn more about what this is all about, listen to this short 10 minute interview I did with her about what's she about to unleash on the world.
Here's what I CAN tell you. This new program is more than 50% off her one on one coaching and JJ is allowing me to offer another $100 off her new group coaching program for visitors of Former Fat Guy. Make sure you mention this website to get your discount.
Listen to the clip and visit
90 Day Total Health and Body Makeover
JJ and I will be doing a information call about this after the 15th of August 2007. This will allow you to ask questions about the program and learn exactly what you're in store for. To be notified about this call, make sure you sign up for my health, fitness and weight loss newsletter in the red form to your right. Subscription is completely free and you get bonus items for signing up.
Read about the
90 Day Health And Body Makeover
on JJ's website
It's time.
Time to get rid of excuses and to finally get results! Learn how.
Labels: JJ-Flizanes, Personal Trainer