Power Of Commitment To Weight Loss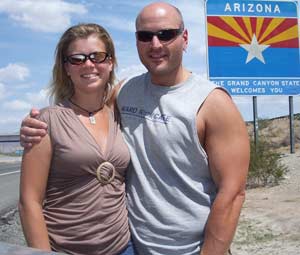 Ang and Myself Crossing Into Arizona
One of my best friends sent me an email just the other day, committing to getting into what she calls "fucking hot shape". The picture above is from last summer, as she and I were crossing from California into Arizona on a weekend road trip between
Warrior Camps
.
She is not overweight.
However, she wants to have the best physique she's ever had and asked me for support. The email she sent touched me greatly and she gave me permission to post it.
Head over to
One Serious Commitment To Weight Loss
, have a read and comment if you like. Ang will be documenting her journey for everyone to read in my
weight loss forum
.
Labels: weight loss