Courses Taken vs Courses Consumed - The Drive Thru Value Meal
I found this graph on Jessica Hagy's website
Indexed
and it made me laugh, so I thought I'd pass it along.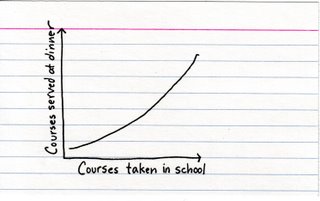 ... it may or may not take you a moment to "get this" ... but you'll figure it out ...
I was lead to Jessica's website through some new social networks that I've joined. In the past 10 days or so, I opened a
Facbook
account, a
twitter
account and a
jaiku
account. Met Chris Brogan who hooked me up with the
Health Hacks Podcast
and I was accepted as a contributor to this amazing health podcast. It got me thinking about the power of social networks. I've met a lot of old friends again on Facebook and I'm having a lot of fun on there. I
Dugg some of my best articles on Digg
and then realized that the same people on the social networks were also on Digg, so I made them friends there.
I met a guy through my blog who blogs about
strength training
from down under. Scott Bird. It's called
Straight To The Bar
. Nice website.. he'll be doing an interview of me in the next few weeks. ... and he's on facebook and on twitter and on digg and on jaiku...
The power of social networks. Fun. But at the same time.. productivity killers as noted in this graph by
Brian Shaler
of Phoenix
I was convinced to start using twitter because of a conversation I had with
Chris Brogan
just a few days ago. I met Chris, which led me to make him a friend on twitter and Facebook and on Digg. Chris's twitter account led me to a friend of his Brian Shaler. So then I had a look at his twitter account and saw a post he made with graphs... They made me laugh, so I looked around, which led me to Jesica's website, which is why I am making this post.
and that's it. I'm logging out of Facebook, shutting off my computer and hitting the sack. Gotta get up early tomorrow to do some cardio.