Confucius Says - Focus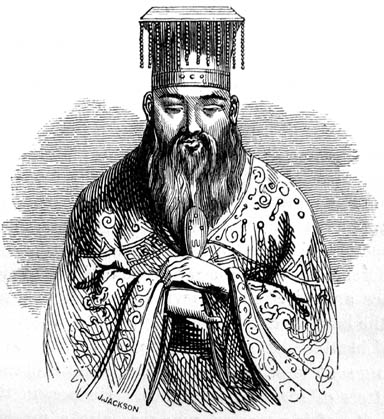 Confucius says "the fox that chases 2 rabbits catches neither". Decide what you want and eliminate everything else as best you can. And - be open to the success that will flow your way.
"Concentration is the secret of strength in politics, in war, in trade, in short in all management of human affairs."
- Ralph Waldo Emerson
"Concentration" here doesn't mean squeezing your brains while you're studying. It's about something quite different...
One of my favorite demonstrations is to suspend a board between two chair seats and then bring a wooden staff (like a broom stick) down on it really hard. What happens?
Not much. The board's intact (my arm's a bit shaky though!).
Next I bring a Samurai sword down on it with less force but slice the board clean in two.
The question I then pose the audience is this:
"Why did the sword slice through the board while the staff didn't?" And there's always someone who will ask the obvious, "Because it was sharp?"
WRONG. Or at least not totally right. The sword cuts through because it concentrates all the force into the smallest area.
If you want to succeed in any area of your life, you need to do the same. Always strive to simplify your life so you can concentrate all your inner resources on one goal at a time.
As for trying to do lots of things at once, run from that like the plague. Do one thing, do it very well and then move on.
Learn to do this consistently and you'll be truly unstoppable!
QUESTIONS FOR YOU:
1. Pick one area of your life and ask
yourself how many things you're trying to juggle at once.
2. Ask yourself what the single most impor- tant thing is you want to achieve in the next 30 days. Do you know? Good....
...Now drop everything else. And if you can't drop it, try to delegate it.
Focus on ONE THING.
Dr. Symeon Rodger
and the Mindset Mastery Team
[Robs Note:]
I got this message today in my inbox from a friend. It's so true. I realize that when I juggle 3 balls, I end up dropping 2 of them, somehow and in some way. My mentor T Harv Eker says "what you focus on expands" and it's just soooo true. When I'm focusing on my training, I get great results, but at the cost of something else. When I focus on my business, it expands. There's a lot to say for balance in your life. Balance in everything. However, that is a hard one for me. I tend to go 100% when I do something and I get great results, but I tend to forget about balance. It's just not in my genetic makeup I guess. I might recommend walking an hour a day, but that might not be realistic for some people, so maybe 20 minutes every would at least get you out the door and into the fresh air. I wrote that article on the
10000 steps a day walking program
and realize that for a lot of people, just getting out and doing 2000 steps might be where they start. My dad used to say, and I still quote him "Do one thing. Do it well and then move on." Thanks dad. Needed that reminder just now.
Labels: motivation