Chris Karagiannis - Skydiver - Killed In Afghanistan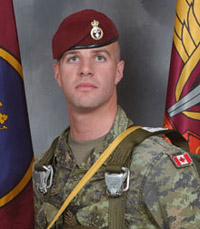 A friend and fellow skydiver from my drop zone was killed in action by a roadside bomb in Afghanistan. I both jumped and partied with Chris. I remember him as being quiet and reserved.
This from Sympatico news:

The bodies of three Canadian soldiers are heading home. 26-year-old Corporal Stephen Frederick Bouzane, 22-year-old Private Joel Vincent Wiebe and 31-year-old Sergeant Christos Karigiannis of Laval were killed Wednesday by a roadside bomb in Afghanistan.

Karigiannis is described as an avid skydiver.

Karigiannis took a pilot's course in Ste-Anne-de-Bellevue in 1993 and has family in Laval.

Karagiannis and the two other soldiers died when their vehicle struck a bomb about 40 kilometres west of Kandahar City.
And this from a former girlfriend of Chris.
Chris was posted to PPCLI 3rd in Edmonton and has been here for a number of years, but his original home was Montreal. Chris has 2 brothers, his mom, and was an Uncle..he was predeceased by his father.
I contacted a friend of mine who has retired from the Canadian Army and has his own group of buddies in Afghanistan still, he said and I quote:

"Live life to the fullest as we don't know when the ride is going to end"
Blue Skies buddy!
Labels: skydiving