Canadas First Obese Ambulance Service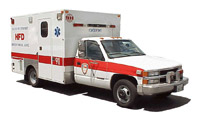 Calgary Alberta Canada has a new ambulance on call for Obese patients. It's designed for patients weighing between 400 and 1000 pounds. (181 to 453 kg). It was created to allow for some decency in transportation for the obese individual.
ScientificAmerican.com
says
"Calgary's new ambulance will ensure that there will never be shocking images of obese patients being transported by trucks, as in the United States."
The ambulance had $30,000 worth of special modifications including a hydraulic lift.
They're calling their group the "Bariatric Response Team"
According to Statistics Canada
"In 2004, an estimated 5.5 million Canadian adults - 23% of the population aged 18 or older - were obese. These people tended to spend their leisure time in sedentary pursuits and to eat vegetables and fruit infrequently."
I had no idea obesity was so prevalent, that nearly 1 in 4 Canadians were deemed obese.
Calgary is a short 3 hour drive from my office in Edmonton, and it was through an Australian lifter Scott Bird and his website
Straight To The Bar
that brought this story to my attention..
Makes you want to do something more about your weight doesn't it? Don't be a statistic! Get out and go for a walk.