Fat Loss Basics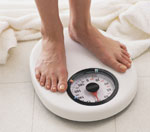 Nearly 60% of Americans are overweight or obese today. If you are struggling to keep your stomach from overlapping your belt then here are a few pointers for you. Listening to all the fat loss methods and messages out there can confuse you and make you forget about the very important basics.
Causes For Fat Gain
It is very easy this day and age to fall into a lot of habits that can contribute to your dreaded weight gain. Below are few of many reasons why so many Americans are becoming overweight:
Consuming 300 more calories a day then we did 20 years ago.
We are eating out a lot more than normal.
Eating larger sized portions of their meals.
Think that low fat foods are good and can eat as much as they want.
And the big reason, not enough exercise.
Many people that try to keep their weight down do so by only eating low fat foods. However, many low fat foods have more calories than the normal food. Be sure to read the labels on foods, although fat matters calories count.
Fat Gain Prevention
Physical activity is a factor too, about a third of Americans do not get enough physical exercise. Instead we spend most of our time sitting at our computers, watching TV, driving instead of walking, taking the elevator instead of the stairs, or taking any other kind of short cut that allow us to work less. It is recommended that you get 30 minutes of moderate exercise a day such as a brisk walk or a bike ride.
No weight loss program would be affective without the exercise. Or perhaps that should be worded differently - "a weight loss program is MORE effective with exercise". We all want to take the breaks or the short cuts, but only with exercise can we get the results we want. Mostly, it's about your metabolism. Dieting slows the metabolism while exercise and eating more often increase metabolism.
Consider that when we wake up, our metabolism is at it's lowest and slowly increases throughout the day, then slowing near dinner time. Changing this is as easy as exercising first thing in the morning and eating a larger meal at breakfast consisting of lean protein such as egg whites, plus good carbs such as oatmeal or Chia.
Chia Seed
For centuries this tiny little seed (Chia) was used as a staple food by the Indians of the south west and Mexico. Known as the running food, its use as a high energy endurance food has been recorded as far back as the ancient Aztecs. It was said the Aztec warriors subsisted on the Chia seed during the conquests. The Indians of the south west would eat as little as a teaspoon full when going on a 24hr. forced march. Indians running form the Colorado River to the California coast to trade turquoise for seashells would only bring the Chia seed for their nourishment.
By sticking with the above basics fat loss and maintenance can be achieved by adding a few simple minor changes to your lifestyle.
There are no quick fixes or magic methods. Losing fat and keeping it off does not come easy for many people. The idea of eating less and moving more should be the common approach.
Tags:
Weight Loss Tips
,
Fat Loss
,
Weight Loss
Labels: exercise, fat loss, weight loss