Tom Venuto Skyrocket Your Fat Loss Success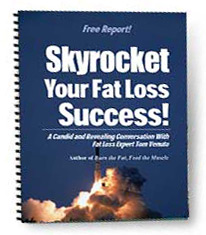 Here is a free report called
Skyrocket Your Fat Loss Success
in which interviewer Tom Nicoli talks with Tom Venuto of Burn the fat. Mr Nicoli is a clinical hypnotherapist and is featured on Dateline NBC's "
Ultimate Weight Loss Challenge
". Mr Nicoli is an expert in Personal Success, and he describes a part of that as requiring physical fitness and health, as does my own view.
Mr Nicoli interivews Tom Venuto and shares Tom's views and advice on fat burning and nutrition in this Skyrocket Your Fat Loss Success Interview.
pickup the free
fat loss success report
.
here are a few snippets from the interview:
Tom Venuto:
I think that details matter, and there are some nutrition methods you could certainly call secrets that most people in the general public aren't aware of. But before you get into those details, I think it's more important to focus on the more "obvious" fundamentals.
There's something called "The Pareto Principle," which is also
known as the 80/20 rule. It was created by the Economist Vilfredo
Pareto in the beginning of the 16th Century, and to paraphrase
him, he said that you have to separate the vital few things from the
trivial many things. In other words, the very first thing you have to
do is master the fundamentals before you worry about little details
or "secrets."
In my fat loss system, there are four fundamental pillars that must
support your program. The first one is Strength Training; the
second is Cardio Training; the third is Nutrition; and the fourth is
Mental Training, which we already touched on. If you're missing
any one of those four, then all the attention to details and all the
cutting edge nutrition secrets in the world aren't going to help you.
Most people just go on diets, and what we don't need is another
diet. We need to change our habits, change our behaviors, and
change our lifestyles.
What's missing from most weight loss programs is the exercise
part. I believe that it's better to burn the fat than starve the fat.
When you starve the fat with strict diets and you cut calories too
low, it works initially, and you see that very gratifying initial drop
on the scale. But what happens to everyone eventually is you
plateau, because your body adapts, and your metabolism adjusts to
the reduced food intake. Your body thinks you're starving, so your
body just starts burning fewer calories. Strength training and
exercise help because strength training increases your lean body
mass. It helps you keep your muscle, which prevents your
metabolism from slowing down. It also allows you to eat a little bit
more. So instead of a severe cut in calories, you're burning the fat
instead of starving the fat.
Tom then talks about the ...
4 pillars of fat loss
... the foundation of your success.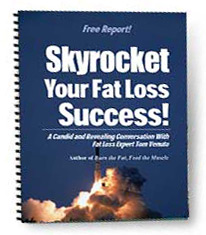 Read more about that in the
free skyrocket your fat loss report
.
The interview then continues...
Mr Nicoli:
Now is that information difficult for people to understand and apply?
TOM VENUTO:
It's very simple. You know, some people have complex nutrition systems where they talk about metabolic typing, and they may have you go and get blood tests, or you may have to fill out a complex questionnaire. Those things are fine and can be helpful, but what I do is much, much simpler.
What I recommend is to start with a baseline. This baseline consists of fundamentals that apply universally to almost everyone. Without these fundamentals in place, the fine tuning will have much less impact on your results. Once you have your baseline in place, you can simply begin to systematically adjust your intake one variable at a time, things like grams of carbohydrates, for example, and by getting in a feedback loop, you can figure out exactly how your body processes and responds to
food in a very, very short period of time.
Get your free
fat loss success report
.
The free report is 32 pages long and provides a great insight into the mental aspect of fat loss as well as Mr Nicoli's own advice and information from his own personal success program. This Tom Venuto interview on Fat Loss Success is not to be missed.
Tags:
weight loss
,
fat loss
,
success
,
free report
,
ultimate weight loss challenge
,
tom venuto
,
tom nicoli
Labels: Diet, Dieting, fat loss, Tom Venuto