Healthy Holiday Eating Tips
Top 10 Tips to help you NOT gain during the holidays!by J.J. Flizanes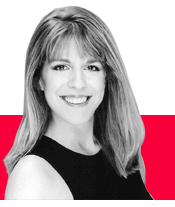 1. Family get togethers do not have to mean sit and eat. Quality time together can be spent doing other activities. Try to clear the table while people are slowing down and are almost finished to take away temptations of over eating.
2. Traditional meals probably contain high calorie ingredients such as pasta, butter, oil, cheese and sugar. Be creative and consult some low fat cooking sources on alternative ingredients that will cut several hundred calories per dish using items like egg whites, applesauce, fruit paste, lighter versions (not fat free) and etc. No need to tell the family-- they probably won't notice!
3. Add some new dishes to the dinner table of salads, vegetable, fruits and broth-based soups. These are generally healthier choices so you can fill up in these and eat less "bad" stuff.
4. Schedule in your exercise in the mornings if you can. Physical activity will start the day off right and help you to make better food choice all day long.
5. Learn to say "No Thank You". You do not have to try every dish prepared or eat all that you take. Starving children around the world will not benefit from the extra pounds of body fat you will accumulate after you clear your plate several times to be polite.
6. While in preparation, only sample the food that is necessary. You could potentially eat 500-800 calories in sampling before you sit down to eat. Ask your family to taste and give feedback as well.
7. Sugar free hot cocoa with marshmallows prepared using water is about 50-80 calories per serving (depending on brand). Regular hot cocoa with whole milk can run you 200 calories for an 8-10 ounce serving. There are ways to alter small things that make a big difference.
8. Eat ONLY until you are satisfied, NOT full. If you sit at the dinner table for more then 2 hours, you are probably going to eat more then you need to because it's there. Pay attention to when your body feels good, not when you need to unbutton your pants!
9. Keep a log of ALL of your exercise and food. The average amount of calories for an adult between the ages of 30-55 who participates in moderate activity of 2-3 hours a week is 1800 (women)-2500 (men). The average holiday meal including drinks can average around 2800-3200. You don't need to count the calories, just pay attention to it and be honest. Logging keeps you aware of why the scale goes up and down.
10.Holidays are stressful times and sometimes depressing for some. Exercise boosts your body's production of serotonin, the body's "happy drug". Don't let stress win! If you need some support in getting the gym or doing your home workouts, hire a trainer. You'll be glad you had the discipline and you will be ahead of the game for the New Year!
visit JJ's website at
Invisible Fitness
These are healthy holiday eating tips from JJ Flizanes in Los Angeles. Its that time of year again to start looking for healthy holiday eating tips and these ones are good.
related:
Healthy Holiday Eating Tips: 10 Tips
tags:
Holiday Eating Tips