Successful Kilimanjaro Summit Uhuru Peak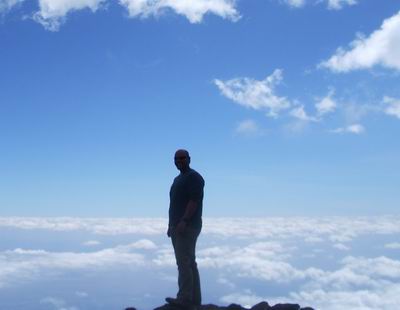 Kilimanjaro
After 5 days of hiking Kilimanjaro in Tanzania Africa, myself and 19 others from our group
Hands Across Africa
summited Kilimanjaro. We raised almost $100,000 for three childrens charities near Kilimanjaro. As I'm still traveling (currently in Nairobi Kenya), I have not received photos from friends showing my Kilimanjaro summit pictures. I do however have these amazing (to me at least) shots showing a few of the days.
When I arrived in Tanzania to climb
Kilimanjaro
, I was without my main pack. KLM seemed to have misplaced it and I only had my daypack and boots. This next shot is when I first got into the land rover to go to the park gate for our first day's climb. A moment later, the rover filled with my hiking partners and the door closed. It was then that the hotel manager came out and announced that my bag had arrived. I was 1 minute away from leaving to climb Kilimanjaro.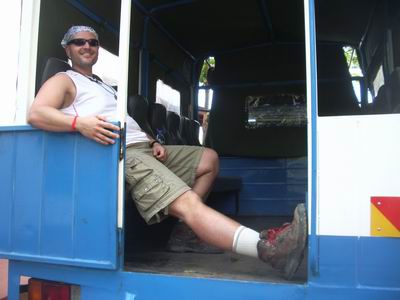 Kilimanjaro Day 1 Landrover
I had rented all the gear I needed from the shop at
Keys Hotel
but when my bag arrived, I asked for 10 minutes to re-arrange my stuff. I returned the rental gear except for a poncho and my kit bag and placed my safari clothes into my pack and put it into storage. I had asked for 10 minutes to complete the task, but with my Peak Potentials Leadership Training and my Warrior Camp experiences, I delegated tasks and had it all done in less than 5 minutes.
I'm going to skip most of the trip diary of my Kilimanjaro Summit for now as I'm doing this update remotely (from Kenya), but will post some great shots I have just to keep things up to date for now.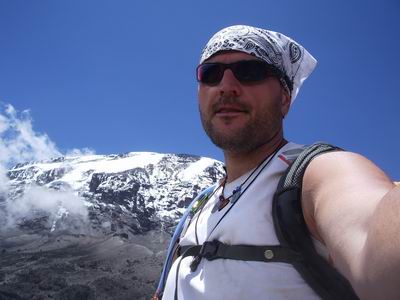 Kilimanjaro in my backyard
This is a self portrait from day 4 with Kilimanjaro in the background taken from about 3700 Metres. Kilimanjaro was my backyard for an amazing 7 days.
Day 5 on Kilimanjaro
This is a shot from about 4200M or so taken on Day 5 just before arriving at our camp that day at 4600M.
We got into our camp on day 5 at about 1 in the afternoon or so. We had lunch, then I had a nap before supper. We'd only get about 3 hours sleep after supper before being woken at 10 PM to be ready to leave for the Kilimanjaro Summit at 11 PM (23:00). We did our ascent during the night / early morning in a major wind storm. It was a clear night and a full moon. We had planned our Kilimanjaro trip with a full moon summit almost a year in advance and it was worth it. I watched Orion rise over the horizon as we climbed and somewhere near 6 am, I got this shot of the sunrise.
Sunrise during Summit Morning
There were very few people who were willing to take their gloves off and get their camera's out during this cold spell but I knew of one special girl who would appreciate this picture of the sunrise over Africa and thoughts of her helped me get this sunrise shot.
It was just after this that 3 of my hiking group turned back. One had been fighting a viral infection and hadn't been eating for 3 days. Another had vomitted twice (presumeably from AMS) and decided to turn back as well. I tore off my insulated Sunrider drinking bottle full of water and handed it to him for his trip down. I'm well experienced in the effects of dehydration and wanted to make sure he had enough water to get back. When I asked him, he only had 500ml left (16 oz). The last of the 3 was Dave, a 57 year old who was just plain exhausted. They were about an hour or less from Stella Point on
Kilimanjaro
when they ran out of steam.
When I got to the top, I took a short rest and caught my breath. This is a self portrait of that moment. You can see a portion of one of my hiking partners Tracy huddled up next to me in her blue jacket.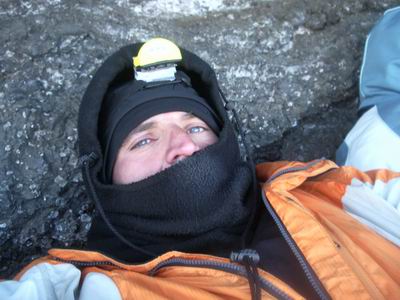 Stella Point Self Portrait
It was another 150 metres and about a half hour trek to Uhuru at 5895m on Kilimanjaro from here. We split into two groups, one heading down from Stella point and another heading onward to Uhuru.
Just before we left, our guide said "the weather's changing" which I thought was a good thing, but that's not what he meant. The wind picked up and it turned colder. My themometre read -10C but with the wind, it was easily -20C. I staggered to Uhuru taking one step at a time and one breath at a time. I kept my head down, my balaclava done up and plodded along. I had caught up to Carl, my hiking partner and we walked to the Summit Uhuru together.
Carl has the photos of the summit which I will post later.
The lineup for the Kilimanjaro summit photo was quite large. People were arranging themselves to get shots of various natures. Individual shots and group shots. Shots with all the clothing on and shots with the head gear taken off to show the faces.
There were many ill people here. One lady that was waiting didn't even want to turn her body or move the slightest for fear of vomiting. Another gentleman was rushed down by his guide and a hiking partner and could barely walk. They had their arms around his shoulders and practically dragged him towards the descent route. Losing altitude is the best thing for anyone suffering AMS.
This last photo shows one of the glaciers there at the top with a great view of Africa in the background. You can clearly see the curve of the earth in this photo. I have jumped out of an airplane from as high as 15,000 feet, but to climb to 19,300+ is a feat I am going to treasure for a great many years. As I said, I have many other photos on other cameras to post later as well as a lot more of my own to go along with my Kilimanjaro trip log and summit report when I get back to Canada.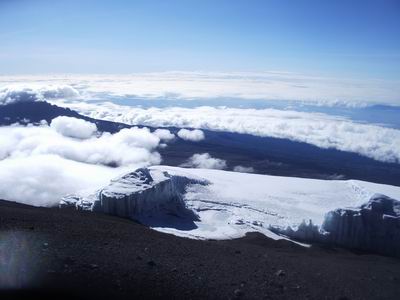 Glaciers from Uhuru
Some Hike Info:
20 hikers, 72 miles, 5895 metres, 17 got to Stella Point, 8 continued on to Uhuru Peak, 3 turned back before Stella. Raised $100,000 for three african charities. Half the amount of oxygen at the top than at sea level. 6 Days up - 1 day down. Beer available at Mweka camp on the way down!!! Ate deep fried jam sandwiches at 4000m (will probably NEVER have a chance to do that ever again, unless my peaks buddies climb Kilimanjaro with me in 2008 hint hint). Used no medications at all - no Diamox, no Tylenol, no nothing - fueled by Sunrider foods, Metabooster, Fortune Delight, Nuplus, Sunbars, Quinary and Korean White Ginseng.
Tags:
Kilimanjaro
,
Uhuru
,
Stella Point
,
AMS
,
Africa
Labels: africa, kilimanjaro, travel, uhuru