Kilimanjaro Climb
This will be my last post for awhile as I'm heading off to Africa to climb Kilimanjaro with a group raising money for three African children's charities (see
www.handsacrossafrica.org
).
I've been away most of the summer working peak potentials personal development camps like enlightened warrior and Ultimate Leadership Camp in British Columbia, California and New York.
Here's a pic of Angela Dennison, Mack and Myself all sporting shaved heads. Angela just got hers shaved the night before. Just so happens that her twin sister shaved hers the night before 700 miles away and neither of them talked about it. Creepy.
Shaved Heads
Amanda Dennison, Angela's twin, holds the
world record fire walk
in the guiness book of world records at 227 feet and did so with no burns whatsoever. She does
firewalks
and facilitations for people and groups to help them overcome challenges and create breakthroughs. I worked with her before she started doing firewalks and had never met Angela. Then over the past two years, I've spent almost 2 months living and working with Angela and barely even know Amanda anymore. Weird.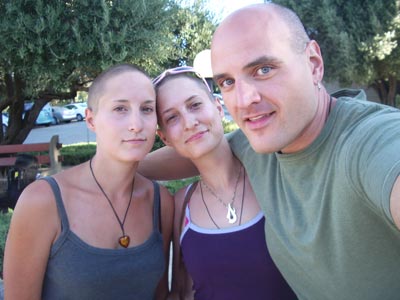 Twins and Coop
So now back to my Kilimanjaro climb trip and reason for posting all of this!
I've had this trip to climb Kilimanjaro on my life list for quite some time and when I found this group that was going, I quickly joined. We climb Kilimanjaro the first week of October and summit on a full moon. I found this great trip diary of another Kilimanjaro trip as told by Markus Wandel at
http://wandel.ca/africa2005/index.html
I packed a few extra items for my trip such as a rain cover for my day pack and bought an extra pair of Expidition weight thermal long underwear to go along with all the other high altitude and cold weather gear I already had.
Here's a pic of my gear before I leave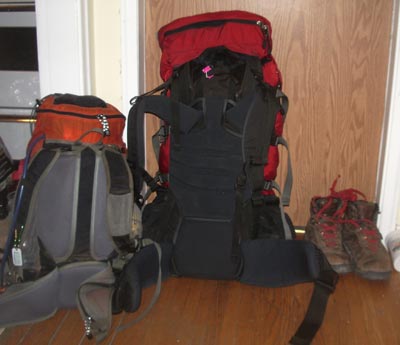 Kilimanjaro Climb
After the
Kilimanjaro summit
, I head out on a two week safari of Kenya and Tanzania. Then I spend 5 days lounging on the beaches of Zanzibar and then spend 4 days in Egypt. After that I visit my sister in Austria for 10 days and plan to update my blog with some pictures of my Kilimanjaro climb, safari and Zanzibar.
Here's info about
kilimanjaro climb
. (not mine).
Going to sample some of the fine beers of Austria, visit Arnold's home town, see some of the world war 2 places like Hitlers Eagles Nest and just plain hike some more mountains.
Not really sure what else I want to see in Austria, just playing it by ear. My travel agent said to me today "You're the most relaxed traveler I've seen in a long time and I wish more of my clients were like you". I just wanted her to plan the trip, the itinerary and I'll do the rest.
Packing was easy.. just some warm clothes, some multi purpose clothes and lots of Sunrider foods to get me through the heat, the cold and the exertion of the climb.
I packed two backpacks, my sandals and the boots I'm wearing. Simple.
When I joined the group raising money for the climb of Kili, I thought, "while I'm over there, might as well go on a safari and visit Egypt". Then a friend of my ex girlfriends had just gotten back from Zanzibar and had done it just to say she'd been to "Zanzibar", so I though I might as well pop over there too. My only plan for Zanzibar is to spend time on each beach on every side of the island and work on my tan.
So if you don't hear from me for 6 weeks, you'll know where I am ok?
Climbing Kilimanjaro will be a great feather in my cap, as my buddy Scott Gullian says. His feather was Ultimate Leadership Camp and Kilimanjaro will certainly be one of mine.
Labels: africa, kilimanjaro, travel, uhuru