Jump Rope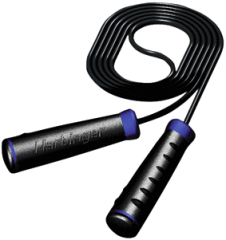 One of the hottest fitness trends today involves a toy that many of us played with as children. The jump rope is an age-old piece of equipment that can be found in nearly every home that has children. Many adults are picking up the jump rope to get into great shape in relatively little time.
This activity is not for everyone. You probably want to discuss taking up the jump rope routines with your doctor before running out to the store to pick out your equipment. Anyone who has problems with joints and people who have other health-related problems will benefit from talking to a physician.
Though it may seem quite innocent, the jump rope is a demanding piece of equipment that can really take a toll on your body. The simple design is deceiving and the jump rope's connection to childhood play is also deceptive. You may find that you are ready for a break after a few minutes. Some of us need a break after a few seconds of jump roping.
Just like any other physical activity, the more you work out, the more benefits you will see. Unlike many other routines, the jump rope promises excellent results in relatively little time. The reason for the quick results lies in the nature of the seemingly simple activity.
Most of us are aware that the best way to burn fat is to engage in aerobic activity. The jump rope is the perfect vehicle for targeted aerobic activity that also involves isometric holds. The jump rope routine is also a weight-bearing exercise that not only gets your heart pumping but also builds muscle in the process.
Another great benefit of using a jump rope is that the weight-bearing exercise also builds strong bones. Some ladies who find themselves on the path to osteoporosis can help themselves by taking supplements and using an activity like jump rope to build bones.
The benefits of the activity are numerous and include convenience. The jump rope is a rare piece of equipment. It can be taken just about anywhere with no hassle at all. You never need to assemble it and you can use the jump rope in all kinds of weather.
One word of caution for the ladies: make sure that you find a good sports bra that has excellent support when engaging in any jump rope activity. It is always a good idea to make sure that you are comfortable and able to concentrate on your workout.
Incorporating a jump rope into your workout routine will make you feel like a kid again. Adding a little youthful fun to your exercise program will insure that you will stay on track.
I carry my jump rope with me when I travel so that I have a way to get lower body, calf and cardio training in when I don't have access to a fitness facility. I highly recommend a jump rope.
Related:
Jump Rope
,
Jump Rope Institute
Tags:
jump rope
,
cardio