Birthday Bungee Jump
My Birthday Bungee Jump
I celebrated my half birthday this summer in June and I was treated to a Bungee Jump at Whistler Bungee (
www.whistlerbungee.com
). North America's longest bridge bungee jump at 160 feet. Notice the backward flip I did at the end of my second bounce. The first bounce, I did a forward flip, but you can't see it. This was my 4th bungee jump I've done now. The last time I did it, I tried the flips at the end of the bounces, but wasn't able to do it. So... I thought about it, visualized it happening and how I would do it. Visualization paid off, and I was able to get two flips out of the deal - one at the end of each of two bounces. Very cool.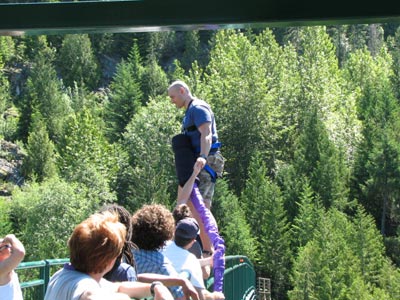 Ready to jump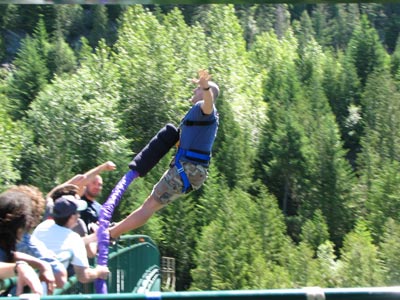 Jumping
Would I jump again? absolutely, but probably only from Whistler Bungee again because after having done a bungee jump from North America's longest Bungee, why would I want to go anywhere else.
The only exception would be from that place in New Zealand which did the first Bungee jump. Not sure of the link, but I know someone who's jumped there.
Next question is "why would I post this on a weight loss blog?". Well, if I can serve as an inspiration to people who need to or want to lose weight and show them what kind of lifestyle someone can have after successfully dropping a bunch of weight (300 pounds in my case), then so be it. I would not have been able to do this 15 years ago at the weight I was at (475 pounds). Being in shape has it's advantages.
My advice? do something, take action on your health and weight and begin to live your life to it's fullest.