Mind of Steel Heart of Gold Summer Birthday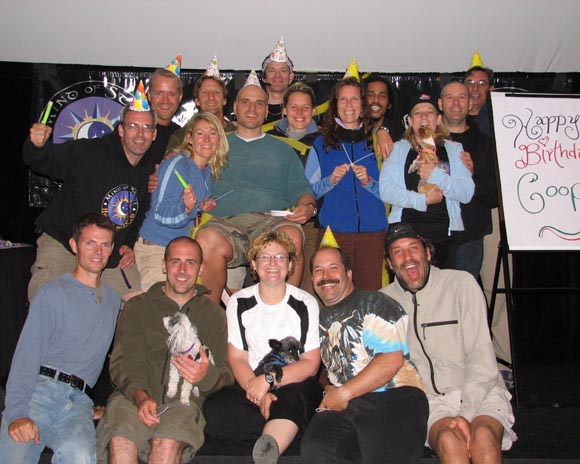 Mind of Steel, Heart of Gold
Summer Birthday
Facilitating at the
Mind of Steel Heart of Gold
course put on by Peak Potentials over the past two weeks in British Columbia Canada, I celebrated my half birthday with friends. On June 25th, I turned 38.5 years old and because I choose to spend my birthday where it's warm and with friends, I chose to celebrate it in a place of peace, serenity and empowerment.
Mind of Steel, Heart of Gold
is Peak Potentials best course combining the elements of
Enlightened Warrior
and Wizard Training, also
Peak Potentials
courses. This is not to say that Warrior and Wizard are not life changing and transformational, but rather than Mind of Steel, Heart of Gold brings together the elements of both into a place where the student can practice the dance between the two energies. It is available only to graduates of Warrior and Wizard Training camps.
"How to Access Your True Power
and Succeed in Spite of Anything"
And
"The Science of
Manifesting What You Want"
"We must practice living as Wizards, but be prepared in an instant to become the Enlightened Warrior as circumstance demands." This is the promise of Mind of Steel, Heart of Gold.

There is a recipe for happiness and success. When you live in the Wizard and utilize the Warrior, success and happiness are natural and automatic. The Warrior succeeds in spite of anything. The Wizard is calm, centered and peaceful in spite of anything.

The Wizard and the Warrior archetypes come together in this camp in a synthesis designed to teach Graduates of the previous two camps how to instantly summon either "energy" as it is needed.

Mind of Steel, Heart of Gold is the dance between the Warrior and the Wizard and you will practice becoming a master at both.

This distinctive camp is a one-of-a-kind program and is not offered anywhere else in the world. You will have the privilege of being a part of an intimate group of outstanding participants.
One participant sent me feedback about his week and his experience at the Mind of Steel Heart of Gold course
"Dear Rob,

Thank you for your empowerment and your energy during the last week! I had an amazing time and I am glad that I got the opportunity to discuss what was precious and dear to me. I am equally excited that your words about Scott's book and publishing process touched something in me that I had not felt for a while. I had for too long not been looking at the larger picture."

Ryan
A friend and co-worker, pictured bottom left had this to say about the course when he took it himself the first year
Mind of Steel, Heart of Gold
was offered.
"Warrior / Wizard started me on an incredible journey in my life. Mind of Steel brought me to my destination. Now I know I am where I should be in life - unstoppable, confident and clear. I'm on the top of a mountain now."

Richard Lauder
I am truely thankful for sharing my summer birthday in such a place of beauty, among friends and being a part of changing lives and empowering people.
Tags:
mind of steel
,
warrior
,
wizard
,
Warrior Camp
Labels: peak potentials