Forget Calories Diet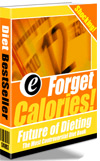 Lose a pound every single day by eating 6 special meals
Here's an interesting diet that describes eating what they call "special" foods that trick your brain into feeling satisfied or satiated.
you eat less and you feel fuller with no need to
count calories
. Intersting.
they suggest not to count calories but rather to eat from a list of foods they recommend which all have a high satiety rating.
these same foods are said to reduce your blood glucose level to super low levels after each meal which then makes your body search out and burn as much fat tissue as possible after each meal.
so, the
Forget Calories diet
provides:
* no calorie counting
* eating high satiety foods until you feel full
* self absorbing calories (foods that require your body to burn calories just to digest them)
it's an accelerated fat burning diet.
This
Forget Calories
fat burning diet requires more research on my part. I'll have to do a review of the results once I get them. Stay tuned.
Tags:
calories
,
fat burning
,
diet