Aerobic Activity For Weight Loss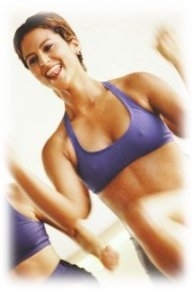 Anyone who has looked into using exercise as a vehicle for weight loss will attest that aerobic activity is necessary for optimal effectiveness in a weight reduction program. Using a good workout in addition to a sensible eating plan can make the difference between struggling to lose weight and feeling the pounds melt away.
Aerobic activity is not an overnight remedy. It took more than a week to gain your extra twenty or thirty pounds and it will take longer than a week to lose it. However, you can lose more pounds in less time if you incorporate aerobic activity into your daily routine. Yes, daily. Many say that three times each week is all that it takes but I am of the mind that thinks the three times a week rule applies to maintenance and not necessarily weight loss.
It is always a good idea to consult your physician before starting any exercise program. This includes even the most innocent aerobic activity. Once your doctor gives you the "go-ahead" then it is time to begin your planning stage. You might be surprised that I don't suggest getting out there right away but this can actually be detrimental to your success. It is best to start your aerobic activity in small steps (if you will excuse the pun).
Perhaps the most popular aerobic activity today is the brisk walk. This simple exercise has taken the weight loss seeking nation by storm. One of the appealing features of walking is that it is natural and it can be done just about anywhere. Many people choose to do this aerobic activity indoors by frequenting their local indoor shopping mall while others like to take in the fresh air and beautiful scenery offered by their local parks.
Few people realistically use swimming as a weight loss routine. Not everyone wants to sport a bathing suit especially when they are carrying around an extra few pounds. However, swimming is an excellent aerobic activity that is so very kind to your joints. It is the epitome of low-impact workouts.
Jogging, on the other hand, is not. I am not a fan of jogging because it is hard on the body. You can get the same benefits from a brisk walk as you can from jogging without damaging your joints. Those who enjoy this aerobic activity, however, swear that it is the best brand of exercise available.
If you plan to jog, swim, walk or if you plan to begin any aerobic activity, make sure that you stretch your muscles. This will help your body prepare for your workout and it will help prevent injuries.
Tags:
Aerobic