Last Diet Book Ever - Easiest Diet in The World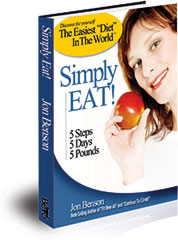 Dear Reader,
Wow, can you believe its spring, already.
I've been away traveling with Peak Potentials events for
the past 3 weeks spending time in Vancouver Canada and Orlando Florida.
I'm in my office this week wading through thousands of
emails that have flooded my inbox (which I still havent'
gotten to the bottom of yet) when I this incredible email
caught my attention
Who could it be but my friend and fellow fitness -crusader,
Jon Benson.
Just then, he blasts across the following link for me to
inspect...
Last Diet Book Ever
"Yo, buddy, what's the latest?," I say.
Expecting an update on a soon to be released seminar series,
I'm blown away as Jon begins to explain how he's written
the "LAST BOOK on DIETING."
"It's really the Antidiet Users Manual," he says.
As you may know, I'm not a fan of diets and that's being
kind. So I was interested right way.
I've just spent the last hour going over it and I love it.
It's just as the title says, SIMPLE. And so absolutely true.
It's clearly years of experience and wisdom condensed.
No filler, no fluff. Just pure, elegant simplicity.
What made this an insanely great deal is the price.
Jon says, "and it's only $5."
That's it. That's crazy!
Well, at leas that's the deal for the first 5,555 books,
then it goes up to full price.
I was lucky enough to be one of the people who would be
allowed to share this ridiculous launch special - only $5.
If you're dieting now, or have ever tried any diets, Jon's
"Simply Eat" is a book that empowers any and all dieters.
If it were another diet book, you know I'd never send it to
you.
I encourage you to go see what it's all about:
Last Diet Book Ever
Check it out - Jon does a much better job explaining it to
you than I can here.
Please don't delay though - Jon's sold over 2,800 of these
books already.
Jon says, "This is the book that contains 5 simple steps I
have worked on for years, narrowed down from over 2,300
dietary principles."
Five steps.
That's it.
And it will work for YOU.
"Simply Eat!" was created to be the ideal companion to any
nutrition and fat-burning book. No matter what plan you are
following, this will help make it more efficient and easier.
"Simply Eat!" also contains a few secrets I've never shared
before in any publication.
Dear Reader, go see what this is about:
Last Diet Book Ever
here are some comments already received:
"The first six pages changed my life."
"This has to be the most unique principle (Step 2) I have
ever seen...how simple!"
"Why every -diet- book on earth doesn't cover this (Step 3),
I'll never know..."
"This is such an ideal plan for my children, too..."
And the list goes on.
The $5 copies are going fast -- so enjoy!
Eat Well, Be Well
Rob Cooper
www.formerfatguy.com
P.S. That is a live counter...just refresh your page and
see for yourself. At this rate, the 5,555 will be gone in a
few days, so read up:
Last Diet Book Ever