Back at the Cardio Again
First a recent picture of me while on a cruise in February. Ports of call were Jamaica, Grand Cayman and Cozumel Mexico.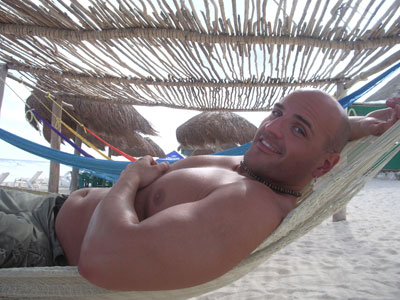 This photo was from our last day while on Cozumel, getting some beach time
Cardio
I really had to force myself to do cardio today. First time in a LONG time. When I got back from skydiving, I was recuperating from some hard landings and had some serious pain in my right leg. Ankle, shin, knee and hamstring had issues. Limped for a week afterwards and was not able to do any cardio before the cruise. Kept up with my weight training, but cardio was out.
So today, I had to talk myself into getting back at the High Intensity Interval Training. I've cut back on cardio with this new routine I'm doing. I'm training every other day now and doing cardio on the days in between.
I had decided NOT to do cardio just because I wasn't in the mood. I left my house to go run some errands and was warming up the car (yes, it's cold here and I have to warm up my car), and while walking to the post office across the street, talked myself back into doing cardio. It really doesn't take long to talk yourself back into things I find.
Came back into the house to grab my gym gear and then left for the gym. Did a good 35 minutes of cardio on my favorite machine, the Cybex ArcTrainer and THEN did my errands afterwards.
Based on the new training program, I'm giving myself more time to recuperate after a good heavy workout and in doing so, allow more time for natural HGH and Testosterone to flow through my veins in an effort to get bigger. Then Cardio on my off days just to burn a bunch more fat.
So far, I'm happy with the results. Been doing this for about 6 weeks now after reading "Natural Hormone Enhancement" by Rob Faigin . Dave Draper recommends his work as does a lot of other natural bodybuilders.
Hormones play a pivotal role in life extension and good health, and I'm all for it. Some of our Sunrider products support the Endocrine system with foods as well, so I've been doing it for years already, but this one new piece of info might just be the key I need to go to the next level.
The Muscle Nerd's book,
Optimum Anabolics
is based on the same principles and I read it last year. A lot of new research I'm looking at supports it, and a great resource is the
Optimum Anabolics program
.
Get your
free report
here:
Unleashed - How to Shoot Your Muscle-Building Hormone Levels Throught The Roof Naturally
My girlfriend and I met another couple from Edmonton and spent our three excursion days with them while in Jamaica, the Grand Cayman and on Cozumel. We rented a jeep and drove around the island stopping at various beaches.
At one of our last stops, her husband took this picture of us together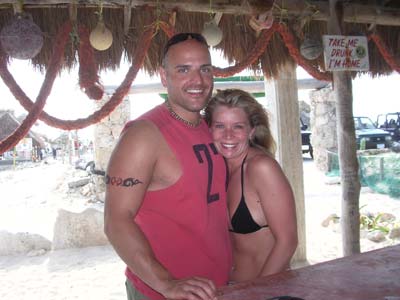 I'll tell you, one of the best perks of dropping a lot of weight, getting in shape and taking care of yourself is attracting and being around beautiful looking women
I'll have more pictures soon on my
most recent pictures page