Walking Lightly and Yoga to Recover From Leg Workout
As I mentioned, my rationale is to take the day off immediately following my leg workout to help in the recovery process and to avoid overtraining.
My leg workouts are pretty killer and I had trouble walking for a few days last week after doing a morning run with stair running followed up with an afternoon leg workout.
So today, my morning cardio was just a light 35 minute walk in our river valley and then some amazing
Yoga at lions breath
here in the city with
Jennifer Steed
. She's an amazing Yogi and I'm so glad that she's moved from Calgary to Edmonton (and magically, a short 8 blocks from where I live). Calgary's loss is my gain.
It was her first session here in Edmonton after having her first child in February and for the other students it was their first experience with her. I heard them all talking about how amazing she was after the class and a few stayed to just talk with her. Now, I've taken some
Yoga with Jen
in years past and my search for a Yogi that I was just as happy with has not been too well until I met Eoin from
Vancouver Yoga
. I was quite happy to be back for my first real Yoga session here in Edmonton with Jennifer.
Jennifer does
Yoga retreats
that are awesome as well as having a
Yoga CD
available. I highly recommend both. Her retreats include
mountain Yoga retreats
here in the Banff area (Canadian Rockies and Kananaskis) as well as some
Costa Rica Yoga retreats
. She even has some "women only" retreats. I keep telling her that those are the ones I want to go on, but she never lets me. Maybe I could just go as an advisor of some sort Jen? Sunscreen Lotion applicator?
Here's Jen from a couple of years ago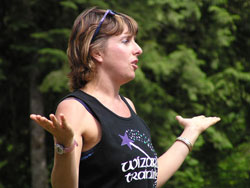 And if you want to see what I wrote about her, visit
Wizard Training and Backpacking 2004
(current photo archive)
The class was late, 7:40 till 9:00 and what a beautiful way to end the day.. some stretching, some relaxing and then my favorite, the corpse pose.
Yes, I'm a big guy, a 240 pound bodybuilder and yes, I do Yoga.
I do Yoga because it makes me feel good, it stretches and lengthens my muscles and actually makes me stronger. I spend most of my time in the gym contracting my muscles and making them work harder so I like to balance it out with some stretching. I also find that my organs get worked in a way not possible by any other means. My energy is more balanced, I digest food better and my elimination channels are improved in function.
I have a very hectic life, and Yoga is a way for me to just chill out, calm down, stretch and take it easy for a bit. Plus, it's a good workout in itself, just different.
I'm so glad you're now in Edmonton Jen!
So, to summarize, my traditional Wed's will be light walking and then evening Yoga so that I can speed the recovery process in my legs.
Tomorrow? Arms!
Labels: peak-potentials, walking, wizard-camp, wizard-training, yoga