My Trainer Killed My Legs
I've been talking about getting back out to my club's fitness boot camp all this week but haven't been able to due to my back issue last week. Well I think it's a good thing that I had a break in run today because it showed me a thing or two about my running ability right now.
I got up and went for my morning cardio run along our north side river bank here in Edmonton. I run down to a major set of stairs built along the riverbank and then did a double set of the stairs, two at a time.
First of all, my endurance for running is not where I left it 2 months ago and I was getting lots of cramps. Very strange. I ran back along the trail and then did a final set of stairs just before getting back home.
The last part of my run was more like: run the stairs, walk, run, run the stairs, walk, final run.
In total it wasn't very time consuming. What should have been about a 40 minute cardio routine was probably more like 50 minutes with the walking.
Now, don't get me wrong. I'm in good shape and I can climb this shit out of a mountain, but this cross training thing is turning out to be really great because my body has to adjust to the various conditions and can never get adjusted to one thing. This is good. Similar to changing up my workout every 6 weeks.


Belly Rock on the top of Yamnuska by Canmore Alberta

(speaking of climbing, above is a shot of me at the top of Yamnuska (or near the top) on Belly Rock looking straight down the face of the mountain.)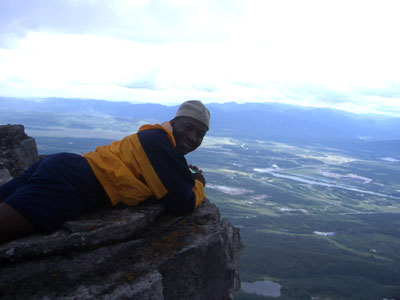 Chevy Harris on Belly Rock

and my buddy Chevy on Belly Rock giving your a better idea of the view from up there. That's Hyw 1 and 1a in the background (oh, and Chevy's wearing my touque too!).
Now back to the today's training Log...
This afternoon was my first leg workout in about 2 months too. I've been climbing mountains, doing my Cybex ArcTrainer machine which simulates climbing and took about 3 weeks off from actual training, so this was my first official leg workout in I don't want to know how long.
It kicked my ass.
First of all, it's the leg routine on my new program so was not used to it at all, and second, I figure
my trainer
laughs as she's developing these programs for me and I can see her thinking "this'll kick his ass, lol". "What doesn't kill me makes me stronger". I like that I had to push myself to finish it. Totally untraditional leg workout too.. lots of people in the gym looking my direction as I went through these various "off the wall" leg exercises using the Bosu.
I find it fun to be in the gym doing these strange exercise ball and Bosu routines for a few weeks and then finally someone comes up and asks "what the hell are you doing?" and "does that work?". Of course, they see my size and shape and know it's working and just want an explanation.
It's also fun to see others start to emulate the exercises too after a few months of seeing me do it. Now I don't know this as a fact, but I've been going to this gym for a long time and I've never seen anyone else do these exercises and then suddenly a few months after I've been doing them, they start to appear all over the place.. um.. I don't know? Seems kinda fishy to me.
"Imitation is the sincerest form of flattery"
Did those
kick ass Russian Twists
again too. This time I was much stronger and spoke with
my trainer
about the move yesterday so I had a better idea of what to do. The
Russian twists
kicked my core's ass and I love it.
Then I had trouble walking down the stairs and back into my car, so I better make sure I do everything in my power to recover asap. Thank goodness for Sunrider Whole Foods and they're ability to help me recover faster.