Day 3 of the Six week Fitness Training Explosion
I slept in this morning. Set my alarm for the PM of the hour, not the AM and had only half an hour to get up and get to my first aid re-certification course. I hate when that happens.
Priorities: pack some food so I can stay fed, and if I'm late, I'm late.. So Be It!
Was early. Turned out it starts at 8:00 am and they tell people 7:45 so they can get people there on time.. nice trick, thanks.
Aced the exam…and got re-certified.
Did you know ABC stood for Airway, Breathing, Circulation? Well, remember it, it might be on an exam.
Did not get in my morning cardio. Still recovering from my injury on my first day of training which then brings me to this day's training and the evening cardio. Did neither. Spoke with my trainer and a good friend who trains and both advised to not push it and take the extra day (as good as it's been) and spend the day resting.
I've felt 80% better today and WILL re-start training tomorrow.
Spoke with my trainer who was at a fitness symposium (cough ..tax deductible holiday.. cough..) in Toronto by text message. I requested a body weight workout program for when I'm on holiday to round out my cardio and yoga. I now have a portable audio device with a couple of
yoga programs on it from Eoin in Vancouver
.
They're awesome.
I have never really had the need to have any options available for portable travel workouts, but now that I'm traveling regularly, being able to just do in house body weight stuff will inspire me. I will be purchasing a set of "tubing bands" to use (I can read my trainers mind you see).
While I was in Tofino over the past week, I was doing some martial arts stuff on the beach at Long Beach. I was showing off doing some Poomse's and it had been a long time, so don't bug me on my form please.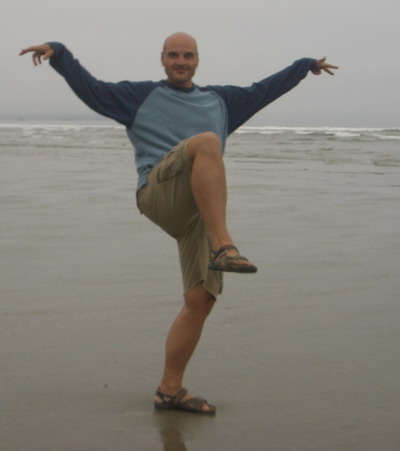 This first one was just for fun.. doing the karate kid pose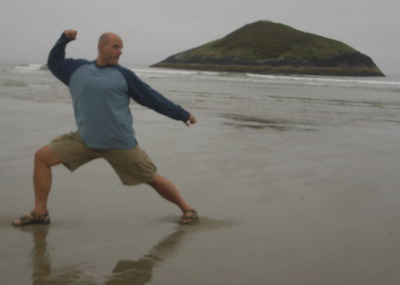 This second one was from my poomse, doing the mountain pose.
Tomorrow I get back into triples (3 times a day in the gym.. morning cardio, afternoon training and evening cardio again)
Until I get to
Vancouver for yoga
, I'll be practicing at
Lionsbreath here in Edmonton
.
You know what? I should just reset this whole thing and have tomorrow as day one... or better yet, have monday as day one, but still get out a do a triple tomorrow for fun. Hey? how's that sound?